Ubiquitous Wi-Fi, Empower Commercial Center Precise Positioning Shopping
Author Aiyden
Date 05/31/2023
The WiFi networking solution has empowered the commercial center with precise positioning of shopping and enhanced the customer experience by facilitating easy navigation within the market.
Background

---
Challenges
The customer has a high requirement for WiFi access. In addition to the always-on network, it should have the comprehensive ability to deal with multi-service businesses, WiFi location and direction, user authentication, and centralized control.
---
Solutions
The solution deploys a centralized access controller (AC) + Fiit access point (AP) networking architecture, where the AC is deployed alongside the routers to link core switches and APs are connected to the network through PoE switches. The architecture ensures reliable and fast Internet access for customers and other value-added businesses.
The large-scale deployment of APs in each area of the commercial center provides the fundamental of WiFi access anywhere, anytime. Also, the APs with positing probes can communicate with the servers through AC. After the AP sends location messages, the server will respond precise position and display it with a visible map. The AC can achieve unified management and control.
In the core layer, we deploy two high-end S7600 series data center switches to provide dual-core switches redundancy. S7600-32C is a layer 3+ 100G switch, supporting full layer routing features such as static routing, RIP, ISIS, OSPF, BGP and data center features such as VXLAN and MLAG. OSPF ensures the integrity of the aggregation core and avoids the data loss of the downlink port switch when the aggregation uplink is disconnected. At the same time, it is convenient to control the direction of network traffic and realize load balancing. OSPF allows routing authentication through different password authentication methods. Overall the core layer has high reliability, redundancy, performance and manageability.
In the aggregation layer, up to eight pcs of S7300-48X2Q4C can be connected in a stack to increase network capacity and simplify management. The S7300-48X2Q4C L3 switch as the bridge between the access and core features high-diversity ports, high performance and high switching speed.
In the access layer, multiple switch models are used, including S5300 series managed switches, S5310 series managed switches and S1300 unmanaged switches. These managed switches can be easily configured through Web or CLI commands. The unmanaged switches provide plug-and-play features for stand-alone small office setups. The PoE switches integrate the power in data transmission, providing an easy and flexible end-device power supply.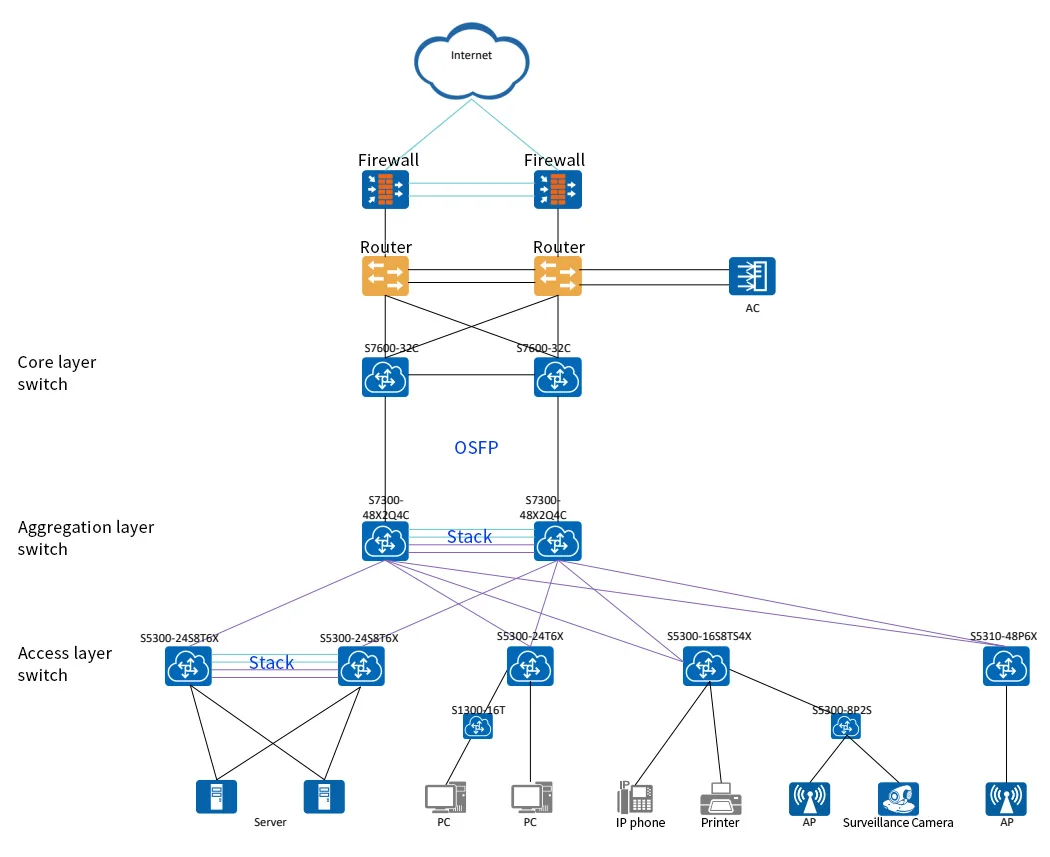 Related Products: