XFP vs SFP+: Differences, Compatibility and Interoperation
Author Aiyden
Date 07/27/2022
XFP vs SFP+: Differences, Compatibility and Interoperation - QSFPTEK Blog What are the differences between SFP+ vs XFP? Are XFP and SFP+ compatible? Can I interconnect XFP to SFP+? Read on for answers.
As technologies such as the Internet of Things (IoT), server virtualization, Cloud computing, and 802.11ax leverage productivity by a big margin, your Gigabit Ethernet network cannot keep up with the high-speed data transmission requirement. It is time to move your network access infrastructure to 10 Gigabit Ethernet. SFP+ and XFP are transceiver modules to enable a 10G connection. Then what are the differences between SFP+ vs XFP? Are XFP and SFP+ compatible? Can I interconnect XFP to SFP+? These are the topics we are going to talk about today.
---
XFP vs SFP+ Explanation
SFP+ is the enhanced version of the small form-factor pluggable (SFP). SFP+ and SFP share the same form factor while SFP+ supports a data rate of 10Gbps rather than 1Gbps. Other names for SFP+ are SFP plus, enhanced SFP. SFP+ complies with IEE802.3ae; SFF-8431; SFF-8432 standards. It is the latest hot-swappable module for 10Gbit/s Ethernet and 8.5Gbit/s fiber channel applications.
XFP (10 Gigabit Small Form Factor Pluggable) is a more legacy transceiver form factor, Though complying with XFP MSA, it is protocol-independent. Therefore one can replace the XFP transceiver while not affecting the system operation. Typically, XFP works at an Infrared wavelength of 850nm, 1310nm, or 1550nm. It supports both single wavelengths and DWDM (dense wavelength-division multiplexing).
---
XFP vs SFP+ Differences
XFP vs SFP+ Size
Compared to XFP, SFP family modules such as 1G SFP, 10G SFP+, and 25G SFP28 are more compact. Respectively XFP and SFP+ have a size (hight*width*depth) of 8.5 mm*18.35 mm*78.0 mm and 8.5 mm*13.4 mm*56.5 mm. This means more SFP+ ports can be configured per the same 1U space. Therefore SFP+ has become the mainstream form factor for 10G high-speed and high-density data communication applications.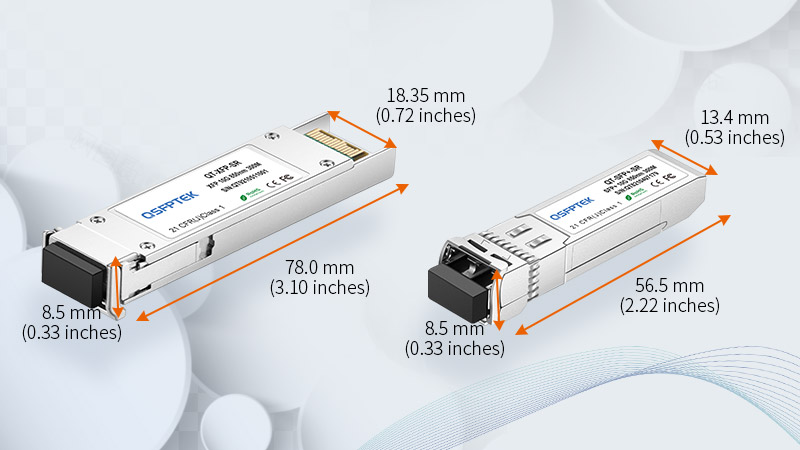 Due to limited interior space, SFP+ moves multiple functions to its motherboards, such as signal modulation, MAC, CDR and EDC.
XFP vs SFP+ Power Consumption
10G SFP+ transceiver features low power consumption. Take optical transceivers provided by SFP manufacturer QSFPTEK as an example. The max power consumption of 10GBASE-SR SFP+ is 0.8W while 10GBASE-SR XFP is 1.5W.
XFP vs SFP+ Cost
Though XFP is more primitive than SFP+, XFP price is higher than SFP+. QSFPTEK offers 10GBASE-SR SFP+ at $9.9 and 10GBASE-SR XFP at $27.
XFP vs SFP+ Application
XFP can be used for 10 Gigabit Ethernet, 10 Gbit/s Fibre Channel, Synchronous Optical Networking (SONET) at OC-192 rates, Synchronous Digital Hierarchy (SDH) STM-64, 10 Gbit/s Optical Transport Network OTU-2, and parallel optics links.
SFP+ is typically used for connecting networking devices in data transmission and telecommunications. It can be applied in 10 Gigabit Ethernet and fiber channel, SONET OC-192, SDH STM-64, OTN G.709, CPRI wireless, 16G Fibre Channel, and 32G Fibre Channel application.
XFP vs SFP+ Comparison Table
The table below lists XFP specifications and SFP+ specifications for comparison. SFP+ has advantages over XFP in terms of smaller size, backward compatibility with SFP, power-saving, and lower cost. Consequently, SFP+ is popular for meeting the trend of a low-cost, high-density, and compatible flexibility optical solution.
---
XFP vs SFP+ Compatibility
For module-to-module compatibility, It is feasible to interconnect XFP and SFP+ modules with a matched fiber patch cable. The connectors of XFP and SFP+ fiber transceivers are both LC duplex. Therefore XFP and SFP+ modules with the same protocols, wavelength, and other specifications can interoperate via a duplex LC fiber patch cable.
For module-to-port compatibility, XFP ports cannot take SFP+ transceivers and vice versa. Given that the width of XFP is much wider, the electrical interface of XFP (XFI) is inconsistent with the electrical interface of the SFP+ port (SFI). XFP modules that are inserted into XFP ports are not replaceable for SFP+ modules.
---
How to Interconnect XFP to SFP+ for 10Gigabit Ethernet?
On the condition that XFP and SFP+ conform to the same 10G protocol, wavelength, and signaling rate, they can be interconnected directly via either of the following two solutions.
Solution 1: Use an XFP and an SFP+ module with a matched fiber patch cable for short or long-distance connections.

Solution 2: Use a 10G XFP to SFP+ DAC cable for a short-distance 10 Gigabit link between servers, storage, and switches.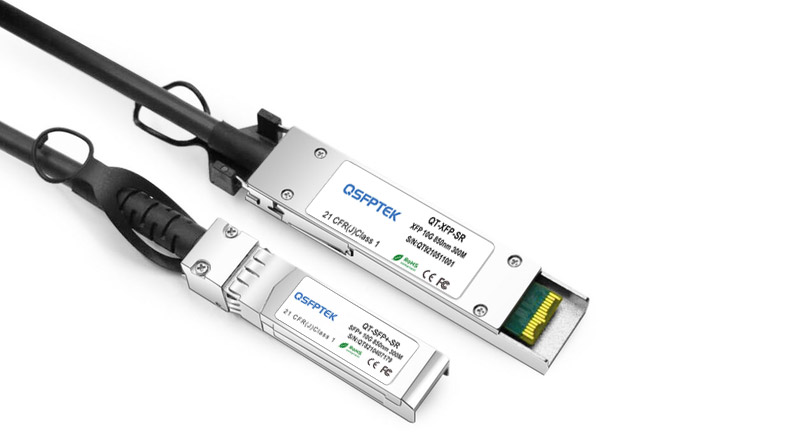 The passive direct attach copper cable has an XFP connector terminated on one end and an SFP+ connector terminated on the other end. It is a high-performance, cost-effective I/O solution for 10Gb Ethernet and 10G Fibre Channel applications.
In case the XFP and SFP+ ports at both ends cannot communicate due to different protocols or standards, one should use an XFP to SFP+ converter or adapter.
Solution 3: Deploy an XFP to SFP+ converter or XFP to SFP+ adapter.

The 10G XFP to SFP+ converter integrates an SFP+ port and an XFP port on the device. Inserting an XFP transceiver into the XFP port and an SFP+ module into the SFP+ port, you can convert XFP to SFP+.
---
QSFPTEK provides 10G transceivers with a wide selection, including standard 10G SFP+, 10G BiDi SFP+, 10G DWDM SFP+, 10G CWDM SFP+ and 10G XFP. All are offered at a competitive price in contrast with market vendors.
Get quotes via sales@qsfptek.com or the right corner chat now box.