Migrate to 400G with 100G Single Lambda QSFP28 Optics
Author Aiyden
Date 08/22/2022
QSFP-100G-DR-S, QSFP-100G-FR-S, and QSFP-100G-LR-S are 100G Single Lambda optics, which are new 100G single wavelength QSFP28 with lower optical costs and 100G-to-400G migration capability.
As massive data grows and cutting-edge technologies emerge, 100G Ethernet gains momentum in high-speed network deployment. However, the existing 100G technology as SR4, LR4, CWDM4, and PSM4 by 4 channel 25Gbps NR4 signals frustrates operators for a high cost. To break the bottleneck, the MSA group developed a new single wavelength 100G technology to lower the costs and simultaneously bring the capability to interoperate with the future 400G standard. Let us dive into the 100G Lambda standard to learn how it functions for the current 100G network architecture and future-proof next-generation 400G network.
---
What is 100G Single Lambda Technology?
Single Lambda is a 100G access technology that uses a single 50 GBaus PAM4 (four-level pulse amplitude modulation) wavelength signal to achieve a data rate of 100 Gbps. This approach is achieved by a DSP (Digital signal processor) to convert the 4x25G electrical signals into a single 100G channel.
Before, almost all the elder 100G QSFP28 optics uses four channel 25 Gbps NRZ (Non-Return to Zero) signals to realize an overall 100 Gbps. In comparison, the PAM4 modulation doubles the data capacity that NRZ does. Specifically, 50 Gbaud PAM4 = 100 Gbps while 25 Gbaud NRZ = 25 Gbps.
---
Why Bring Single Lambda for 100Gbps?
Reduce Optical Component Cost
Currently, the most prevalent standards for 100GbE deployment are 100GBASE-LR4 MSA, 100GBASE-CWDM4 MSA, and 100GBASE-PSM4 MSA. Network operators apply QSFP28 LR4, CWDM4, or PSM4 modules to enable 100 Gbps, which is achieved by multiplexing 4 wavelengths of 25 Gbps into a single fiber. However, the signal processing is quite complex to integrate four 25G signals into a 100G link. This complexity directly brings costly optical components.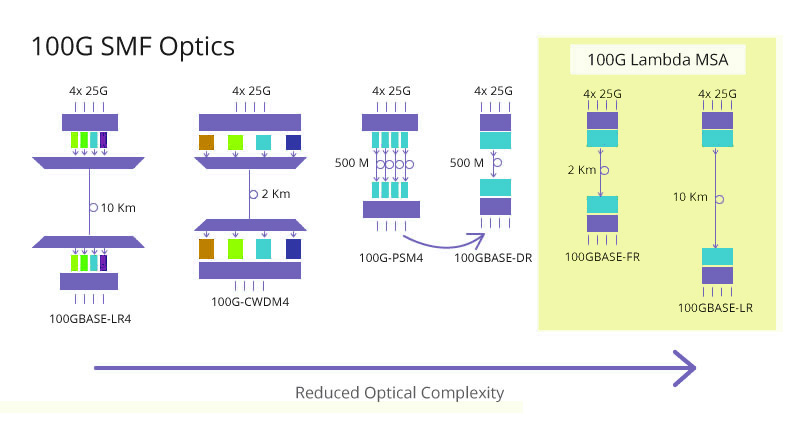 Image Source: Cisco.com
Specifically, the design of LR4, CWDM4 and PSM4 are more complex than Single Lambda optics. The simplified construct components in the Single Lambda transceiver greatly reduce the cost by 40% or more.
LR4, CWDM4 and PSM4 optics: transmitter uses Clock Data Recovery (CDR) in each of the electrical interfaces, Laser Driver (LD) & Laser and even Mux; the receiver uses CDR and Trans-Impedance Amplifier (TIA) + Linear Amplifier (LA) & PIN photodiode in each of the electrical interface and even Demux.
Single Lambda optics: transmitter only uses a DSP with CDR, a single LD & laser; receiver only uses a DSP with CDR and a single TIA + LA & PIN photodiode. In contrast, 100G Single Lambda optics only use one wavelength, saving the trouble of multiplexing and demultiplexing, tight wavelength control and costly hermetic packaging.
Meet Future 400G Standard
The crowded network is pushing for a higher data rate of 400G. The 100G Lambda MSA has considered this trend, designing 100G single Lambda optics with 400G compatibility. That is, the QSFP-DD form factor is backward compatible with other QSFP form factors including QSFP28. Also, 100G single Lambda QSFP28 deploys the same 50GBaud PAM4 modulation that 400G QSFP-DD uses. For instance, the 400G-LR4 QSFP-DD uses 4 channels of 100 Gbps to achieve a total data rate of 400 Gbps, which can link to four 100G-LR4 single Lambda QSFP28 for a 400G to 100G breakout solution.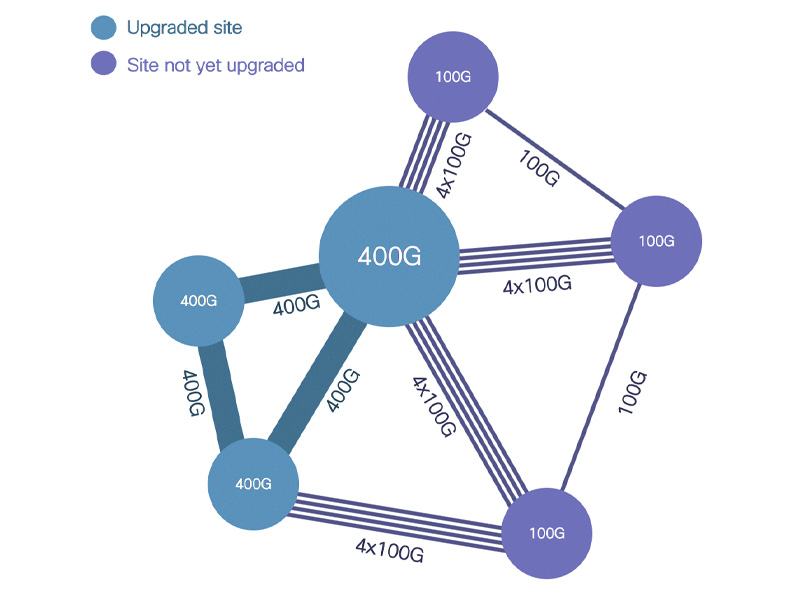 Image Source: Cisco.com
---
Single Lambda 100G Transceiver Introduction
According to Cisco networks, the Single Lambda 100G optics include 100G DR, 100G FR, and 100G LR. All three QSFP28 comply with 100G Lambda MSA specifications and come with duplex LC connectors. To mark the number of wavelength channels, the Single Lambda optics are also called 100G DR1 QSFP28, 100G FR1 QSFP28 and 100G LR1 QSFP28.
100GBASE-DR Single Lambda QSFP28
QSFP-100G-DR-S Single lambda transceiver complies with IEEE 100BASE-DR specification. It supports up to 500m link over duplex OS2 single-mode fiber (SMF) at a wavelength of 1310nm. The 100GBASE-DR QSFP28 is mainly used for short-reach spine-leaf data center interconnect (DCI) that most optical links within 100m. Another restriction is less tolerance for insertion loss of a limited number of patch panels.
100GBASE-FR Single Lambda QSFP28
100G Single Lambda MSA then introduces the QSFP-100G-FR-S to extend the fiber link to a 2km reach. The 100G-FR complies with IEEE 100BASE-FR specification, supporting up to 2km link over duplex OS2 SMF at a wavelength of 1310nm. The 100GBASE-FR QSFP28 enables longer DCI links and leaves more room for higher link loss applications.
100GBASE-LR Single Lambda QSFP28
The third bro is QSFP-100G-LR-S. Through duplex OS2 SMF at 1310nm, 100G LR reaches up to 10km link. The LR QSFP28 brings a long-haul 10km reach to the Single Lambda series 100G optics, extending the interconnect capability beyond two buildings even in nearby cities. It is ideal for new network deployment for the core switch to core/aggregation switch interconnect in the campus network.
Seamlessly Migrate to 400G with 100G Single Lambda Optics
Given that single lambda 100G DR, 100G FR and 100G LR are QSFP28 form factor designs. It is compatible with the QSFP-DD form factor that applies for 400G Ethernet. Correspondingly it is recommended to adopt 100G Single Lambda optics in 400G networking design. The benefit is it allows connecting a new 400G site to a legacy 100G site with 4 links. So you only need to bring 400G hosts to one site but don't need to upgrade the existing 100G architecture while getting 400G link access.
For instance, using QSFPTEK 100G DR QSFP28, you can achieve a 400G to 4x 100G breakout solution. Connect a new 400G ToR switch to a legacy 100G switch with four separate links.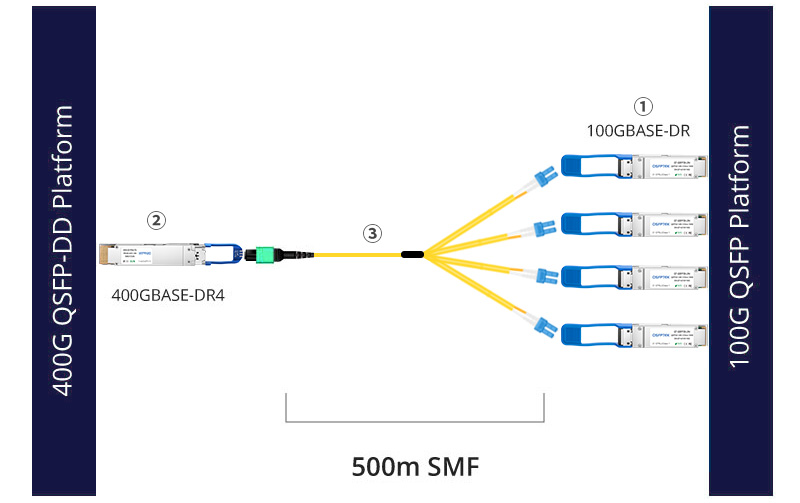 Left side: Insert a 400G QSFP-DD DR4 module into the ToR switch 400G port
Right site: Plug four 100G QSFP28 DR modules into four 100G switch ports
Link: use an MTP to 4 LC duplex OS2 breakout SMF to connect the two sites
---
Conclusion
To drive down 100G deployment costs, the 100G Lambda MSA specified a standard to enable 100 Gbps on a single wavelength, greatly reducing optical complexity. Besides, it looks forward to future high-speed networks, integrating the 400G compatibility to Single Lambda 100G optics. 100G Single Lambda QSFP28 is a future-proofing solution for seamless 100G to 400G migration.
QSFPTEK offers 100G Single Lambda optics including QSFP-100G-DR-S, QSFP-100G-FR-S and QSFP-100G-LR-S; and 400G QSFP-DD transceivers. A full 400G to 4x 100G breakout solution is also provided. If you have any questions, feel free to contact sales@qsfptek.com.