Scalable, Future-Proof, and WiFi-enabled Campus Network
When building a new office network, it is essential to customize it to meet business needs. However, this places high demands on a highly skilled IT manager. This is where QSFPTEK can help. Last month we helped a medium-sized university set up a 10G aggregation network to meet wired and wireless connectivity in their newly scaled office. The solution addressed the institution's challenges for converged wired and wireless access and future-proofing scalable networks.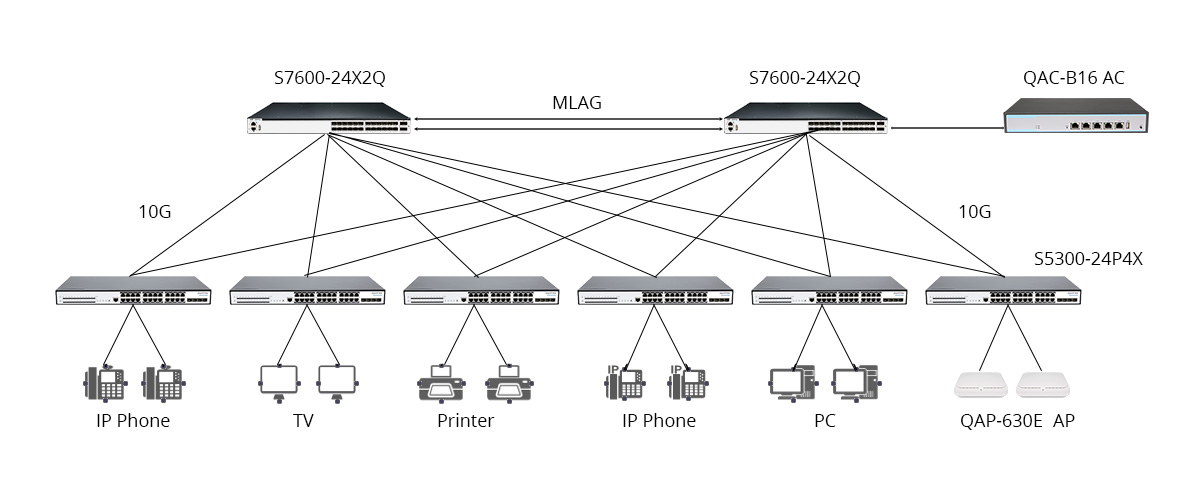 Advantages

Uninterrupted Services
Core layer switches are connected with peer links via the MLAG (Multichassis Link Aggregation Group) method, providing switch redundancy. The network can achieve uninterrupted service even if one of the links fails.

Flexible Scalability
More core layer switches can be added via MLAG and no switch quantity restriction. Manager can easily expand their network capacity for future business growth needs.

High-density Client Ports
The highly converged access layer architecture provides abundant client port access. Each S5300-24P4X switch has 24 RJ45 PoE ports to connect with various end devices, such as PCs, printers, IP phones, and APs. Covering wired terminals and wireless terminals. Besides, the core switch S7600-24X2C supports voice VLAN service for using IP phones.

Robust WiFi 6 Experience
The QAP-630E access point supports up to 150 users to access the Internet via ubiquitous and blazing-fast WiFi 6. The QAC-B16 AP controller supports managing up to 16 APs, achieving seamless roaming and smart management to guard uninterrupted WiFi anytime anywhere.