Noiseless and Highly Reliable SOHO Network for Uninterrupted Business
SOHO (Simple Office Home Office) is a small local area network based on Ethernet LAN technology. Though the requirement for high-speed and massive data flow is not that critical, it faces the challenges of intermittent business interruption. Besides, SOHO has no separate ELV rooms to systematically accommodate the network equipment and other infrastructures, which causes noise and mess in the working area. QSFPTEK proposed the implementation of gigabit fanless switches as access switches, which eliminated the distracting noise typically associated with traditional network equipment. And install a 48 port layer 3 switch with 10G uplinks as the aggregation/core switch to handle all traffic from the access.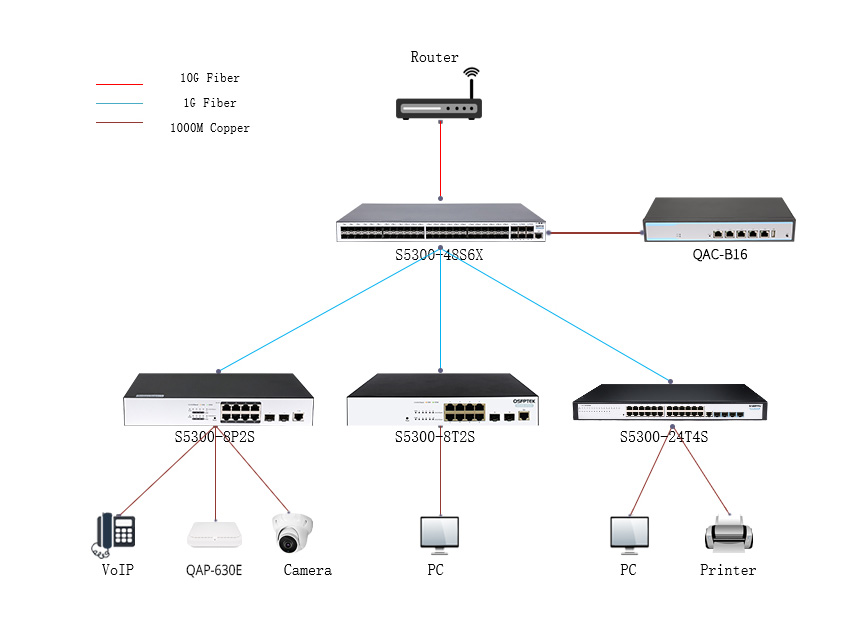 Advantages

Noise-Free
Fanless switches in the access layer generate zero noise, which maintains a peaceful work environment.

High Reliability
Advanced layer 3 routing features, fan and power supply hardware redundancy, and stackability guarantee interrupted business.

Cost-Saving
Switches at the industry's best price and designed with energy-saving technology cut down the upgrading cost.

Simple Deployment
The 8 port switches are plug-n-play. The 24 port and 48 port switches are fully managed, supporting Web, CLI, Telnet, SSH management, which are easy to configure without CLI expertise.