What is White Space, Gray Space, and How to Enhance Data Center Space Efficiency?
Author Aiyden
Date 06/02/2022
White space and gray space are two data center space types. Consolidating the two contributes to enhancing data center room efficiency. Read on to get tips on how to improve data center utilization.
The data center is a building or area to house all the equipment, infrastructure, and components for critical applications and data. It is one of the essential parts of the enterprise to support business services, such as storage, email, CMR, power supply, big data computing, etc.
As technology advances and the business demands grow, the data center faces the challenge of moving to a larger data center to accommodate more facilities. However, re-building a new data center is quite costly. Thus re-organizing the current data center to use space efficiently is critical. This post introduces the core data center spaces - white space and gray space. And give some clues on how to make the best use of data center space to improve data center efficiency.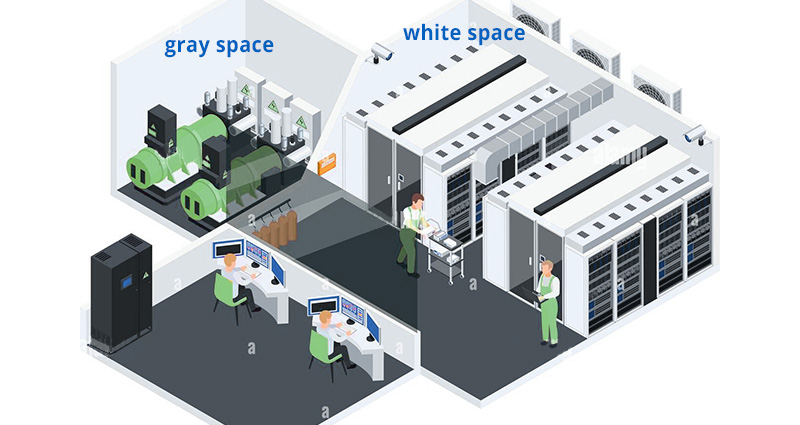 ---
What is Data Center White Space?
The terminology data center white space origins in the United States, referring to an area for placing IT equipment. White space is often located on the raised floor, which is in white in most cases, generating a clean and tech-savvy visual sense. White space is also known as Telecom rooms, IT rooms, or data halls. The white space in the data center is the productive room that functions for data transmission.
---
What is Data Center Grey Space?
The gray space in the data center is the room for locating backend infrastructure. It is the gray space that supplies power and energy for the operation of the white space. Accordingly, the volume of the gray space depends on the size of the white space. The more white space, the more gray space is required.
The core equipment and facilities in white space vs gray space is shown in the table below:
---
Data Center Structure Introduction
Data centers may verify each other based on different standards. The international data center standards include Uptime Institute, International Standard Organization (ISO), American Society of Heating, Refrigeration, and Air-Conditioning Engineers (ASHRAE), TIA 942, ANSI/BICSI 002-2014, and The Green Grid.
The earliest standard is TIA 942, which has the widest adoption in the data center industry. It defines a data center as "A building or portion of a building whose primary function is to house a computer room and its support areas".
TIA 942 recommends a data center space to cover specific functional areas, which guarantees the data center environment is scalable to meet the future adds or upgrades with minimum interruption. These functional areas include:
• At least one Entrance Room
• Main Distribution Area (MDA)
• At least one Horizontal Distribution Area (HDA)
• Equipment Distribution Area (EDA)
• Zone Distribution Area (ZDA)
• Back and Horizontal Cabling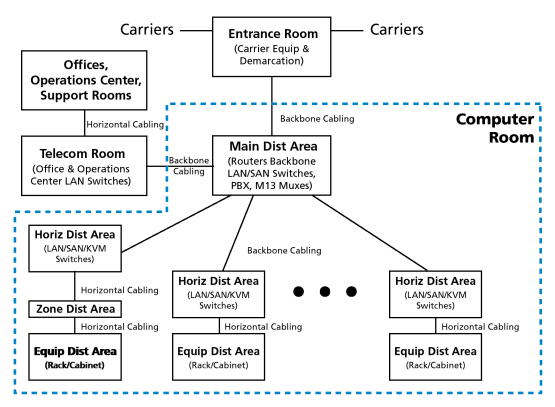 Image source: https://web.archive.org/
Space, power, cooling, and connectivity are the four gears to support the operation of data center system.
The core components are similar. One overview model of a data center is shown in the picture below.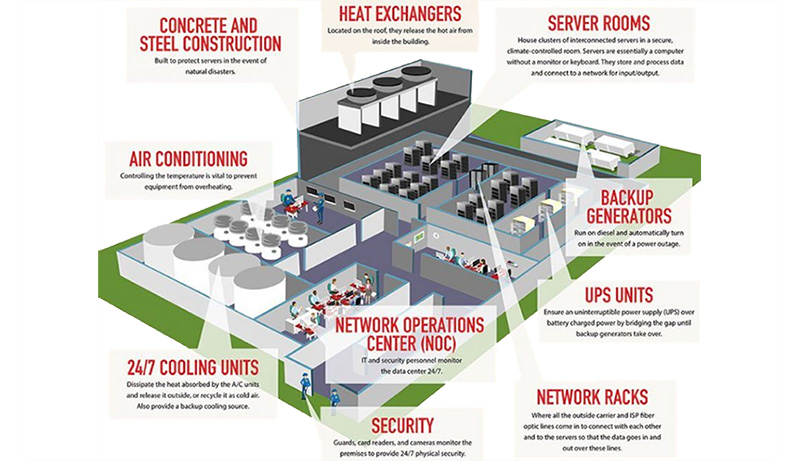 Image source: https://www.akcp.com/
---
Tips to Enhance Data Center Room Efficiency
The cutting-edge technologies such as the Internet of Things (IoT), 5G, WiFI-6, cloud computing, edge computing, integration, and automation are driving the industry towards more mission-critical applications. And the continuous COVID-19 pandemic further catalyzes the demand for server virtualization to meet the urgent needs of online work and remote management. The modern data centers have to stay up-to-date and keep with the utmost efficiency possibility.
Consolidating white space with gray space can enhance data center space utilization. Here are some tips:
Use storage and server virtualization
More than half of the data center power is consumed by storage and servers. More power requirements bring more demands for electricity, air conditioning, and rack space. Implementing storage and server virtualization is an effective solution to save power, cooling, and space.
Delete unnecessary storage data
Duplicate data can take up lots of storage memory. Before managing storage virtualization, remember to locate and remove data that is stored repeatedly to make room for future new data.
Consider Horizontal Space Utilization
The effective strategy to enhance horizontal data center space efficiency is to increase density and decrease unnecessary devices. Horizontal cable managers with high-density adapters in a compact stript provide a simple solution to manage large bundles of cables in the standard 19'' rack.
Consider Vertical Space Utilization
A well-designed data center more often consists of multiple floors or layers. Options between hard floor vs raised floor are the first concern. A raised floor makes another horizontal space for locating additional infrastructures, such as power cabling and cooling systems. Some data centers today use the hard floors with the celling trays for cabling and cooling.
Besides, making use of vertical cable management racks for best vertical space utilization. For instance, placing a 19" 45U rack on the floor can largely increase capacity in the same horizontal floor space. Applying 0U cable manager organizers against 1U cable manager can also save vertical space.
Future proof Data Center Architecture
Does NOT just meet the current business needs, design data center architectures with scalability to keep up with the advent technologies, which future proofs possible adds or adjustment of equipment to save space.
---
Conclusion
The relationship between data center white space vs gray space is similar to the relationship between front performer vs behind-the-scenes support staff. The productive output is performed in front of the screen, but the supply is supported behind the scenes. The white space largely decides the number of gray spaces. DCs need a proper design to have the best utilization of data center space and adapt to changing environments and future growth. Hire a data center design expert to build up or upgrade your data centers will be the most secure solution.
QSFPTEK not only provides 40G/100G/400G transceivers for high-speed and mission-critical applications, but we also provide technical support and DCI solution for enterprise and data center users. To get any queries, please contact our expert via the live chatbox.