In-Depth Guide to 400G Applications
Author Aiyden
Date 11/21/2022
400G solution is to address the continued growing traffic among communication service providers, hyperscale cloud providers, massive Telcom providers, large data centers and enterprises.
With Open systems, Artificial Intelligence (AI), machine learning, and Cloud storage driving traffic to grow by a leap, the 100G core begins to frustrate by the ever-growing traffic flow. 400G with low latency and high bandwidth features addresses the urgent need for high-efficient, high-density and power-saving applications such as 5G, 4K video, and virtual reality (VR).

---
400G Deployment Driving Factors
400G develops at a fast speed, which is pushed by the explosive growth of network traffic by massive bandwidth applications. Typically are cloud data centers, 5G commercial usage, video and the promotion of 400G product standardization.
Cloud and Hyperscale Data Centers
According to Equinix, the global interconnection bandwidth will grow 45% CAGR from 2019 to 2023 and reach over 16300 Tbpas by 2023. One key factor that drives the tendency is the rapid growth of cloud computing traffic. Data centers are moving to the cloud and more cloud and hyperscale data centers are under construction. No matter upgrading existing data centers or rebuilding new data centers, 400G deployment with high bandwidth and low latency is a must.
5G Commercial Usage
5G brings edge computing technology to its transmission architecture, which enables the cloud resources such as computing, storage, and network to be closer to the users. With 400G, edge computing can gain higher bandwidth and security levels to access more end devices and manage and protect data.
Growing Demand for Video Traffic
Video is the most popular entertainment media, composing 80% of the whole Internet traffic. This trend has become even more evitable after the Chronic Pandemic 19 ravaged the world since 2020. More business professionals are working from home (WFH) and rely on videos for collaboration, such as video meetings, online virtual displays, and online lessons. With the viral spread of live streaming and Internet celebrities, a considerable Freelance and unemployed performing videos for leisure or to make money. Higher quality image quality requirements pushed the adoption of 8K and even 16K HD videos, which put pressure on the network infrastructure to migrate to 400Gb/s core for 50G/100G video flow.
---
400G Ethernet and Product Standardization
Since 400G Ethernet was approved in late 2017, the market has seen 400G optical network solution deployment with standardization, commercialization and large-scale development. Branded system providers such as Cisco, Arista, and Mellanox took the lead in 400G networking equipment born. In 2017, Mellanox introduced Spectrum-2 open switches; In 2008, Cisco and Arista respectively launches N9000/N3400 series 400G switches and 400G 7060X4 series switches.
Correspondingly, 400G connectivity solution is also booming, including 400G transceivers and 400G high-speed cables (400G DAC, 400G AOC). 400G transceivers mainly adopt three types of form factors — QSFP-DD, OSFP and CFP8. QSFP-DD with the advantages of wide backward compatibility, more compact size and lower power consumption become the most popular 400G form factor.
Besides QSFP-DD, other trending technologies pushing 400G adoption to the dominant are RoCE, SmartNIC and 400G ZR/ZR+.
QSFP-DD
The decisive factor that makes QSFP-DD stand out from the other 400G capable form factors is its backward compatibility with all QSFP-based transceivers, including QSFP+, QSFP28, and QSFP56. This feature gives QSFP-DD good interoperability to adapt to the legacy 40G/100G/200G networks. Besides, power consumption is a key factor when taking system cooling and operational expense into consideration. In a theoretical value, the max power consumption of the QSFP-DD transceiver is 12W, which is lower than the 15W of the OSFP. Third, the QSFP-DD has a smaller size than OSFP, which will provide higher port bandwidth density.
RoCE
RDMA over Converged Ethernet (RoCE) is a network protocol that enables remote direct memory access over Ethernet. RDMA has the original advantage over other programming interfaces of lower latency, low CPU, and high bandwidth, which exactly matches the 400G application requirements.
SmartNIC
Smart Network Interface Card (SmartNIC) is a programmable accelerator, which is vital to improve data center networking efficiency. Modern SmartNIC provides a 200G/400G port for connectivity.
400G ZR/ZR+
400G ZR provides a solution to transmit the 400 Gigabit Ethernet payloads over a DCI link up to 80km using DWDM and high-order modulation. 400G ZR+ extends the reach beyond 80km. These coherent optics are to address the complexity of interoperability with different vendors and legacy 100G/200G networks in modern highly converged networks. The 400G ZR/ZR+ module is seeing a trend in wide adoption in hyperscale data centers, distributed campus and metropolitan networks and Telecom operators' applications.
---
400G Transceivers Application Scenarios
400G solution is to address the continued growing traffic among communication service providers, hyperscale cloud providers, massive Telcom providers, large data centers and enterprises.
We conclude the most popular connection solutions with 400G transceivers. Mind measuring the distance between two ends to decide which optics to use.
ToR Switch-to-Server Interconnect
In the server room, the ToR switches are often placed at the top of the rack (ToR), middle of the rack (MoR), or bottle of the rack (BoR), where servers are located in the same rack. In a typical ToR configuration, the distance between the switch to the server is limited to 7 meters in passive mode.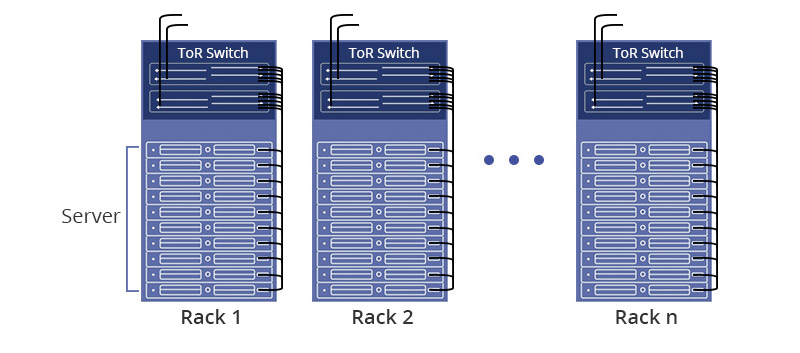 400G QSFP-DD DAC cable is often available for a max length of 3 meters, recommended to use in ToR switch-to-server interconnect within 2.5 meters.
400G QSFP-DD AOC cable can support up to 100m link, best for ToR switch-to-server interconnect within 30 meters.
Spine-Leaf Switch Interconnect
In leaf-spine topology, multiple leaf switches will be attached to a spine switch. In modern 2-tier spine-leaf architecture, Leaf switches are ToR switches. These leaf/ToR switches are access switches that aggregate traffic from the servers and are linked to the spine layer core. The spine-leaf distance is typically within 500 meters.

400GBASE-SR8 QSFP-DD modules are applied within 100 meters of the spine-leaf switch interconnect. They can carry 400G data over 100m via MTP/MPO-16 OM4 multimode fibers.
For spine-to-leaf switch connection beyond 100 meters, network operators often deploy 400G DR4 QSFP-DD transceivers, which can deliver 400G data over 500m through MTP/MPO-12 single-mode fibers.
400G Data Center Interconnect (DCI)
To enable end users to access cloud data and services, the DCI connects two or multiple data centers together. The distance between two 400G Ethernet data centers varies from short, to medium to long.

For DCI within 2km, deploy 400G FR4 QSFP-DD transceivers and OS2 single-mode fibers.
For DCI within 10km, deploy 400GBASE-LR8 QSFP-DD transceivers and OS2 single-mode fibers.
For DCI within 40km, deploy 400GBASE-ER8 QSFP-DD transceivers and OS2 single-mode fibers.
For DCI within 120km, deploy 400GBASE-ZR CSFP2 coherent transceivers and OS2 single-mode fibers.
---
QSFPTEK launches 400GBASE products to lock your high-speed connectivity, including 400G QSFP-DD transceivers, 400G DAC and 400G AOC. Contact sales@qsfptek.com to get a quote.