Five Differences Between OM3 vs OM4 Fiber
Author Derek
Date 12/16/2021
Laser-optimized OM3 and OM4 multimode fiber have become the best option for 10G/40G/100G Ethernet data center connectivity today. What are OM3 and OM4 fiber? What are the differences between them? Are they compatible with each other? Let's find the answers in this post.
OM3 and OM4 fiber deployments are becoming more and more widespread throughout data centers. They not only are able to fulfill the requirement of 10G dual fiber serial transmission but also allow parallel transmission for 40G/100g upgrading. The article next will introduce OM3 and OM4 fiber including their specification, distinct features, and provide a practical guide to choose between them.
What are OM3 and OM4 Fiber?
Both OM3 and OM4 are a category of multimode optical fiber (MMF), generally used in short-range transmission distance within buildings and data centers. According to optical fiber specifications of IEC 60793-2-10 MMF standard, both OM3 and OM4 are referred to as A1a fiber, specifically, OM3 fiber is compliant with A1a.2, while OM4 fiber is compliant with A1a.3. These two types of fiber optic cables also comply with the standards as follows.
OM3 and OM4 Fiber Standard
OM3 and OM4 are featured with a 50/125μm structure, which means they have a multimode fiber core diameter of 50µm and a cladding diameter of 125µm. Their core size is smaller than OM1(62.5/125µm).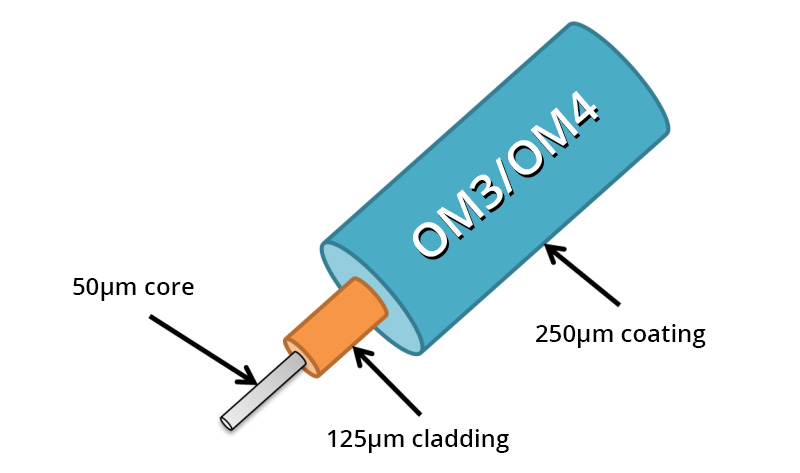 Core & Cladding Size of OM3 vs OM4 Fiber
---
What are the Differences Between OM3 and OM4?
OM3 vs OM4: Speed and Distance
OM3 is mainly designed for 10 Gigabit Ethernet speed and is generally the best choice for 10 Gigabit Ethernet over multimode fiber. For 1 Gigabit Ethernet 1000BASE-SX, OM2 fiber is able to support 550m transmission distance but drops down to 82 meters for 10 Gigabit Ethernet 10GBASE-SR, so OM3 was born to increase the distance to a more usable 300 meters.
OM4 fiber is usually used in 40G and 100G Ethernet. Actually, both two types of fibers allow for 10G, 40G, and 100G transmission speed, but OM4 fiber, which can be considered as an upgraded version of OM3, provides extra transmission distance compared with OM3. For example, OM3 100G multimode application supports 70 meters transmission distance, while OM4 100G multimode application supports a longer transmission distance of 100 meters.
Consequently, if you need a relatively longer transmission distance in a multimode system, OM4 is your better choice. The supported speed and corresponding distance are referred to as follows.
OM3 vs OM4 Multimode Speed and Distance
It's also worth noting that the OM4 max distance limit of 400 meters in 10G Ethernet is set by TIA and IEEE spec standards based on the worst case scenario, actually, the OM4 distance limit can likely extend to 500 or 550 meters.
OM3 vs OM4: Color Coding
Data centers are usually full of various types of fiber optic cables. How to identify different types of cables? The jacket color is an important factor for cable identification. Specifically, for indoor non-military applications cable, you can easily distinguish OM3 and OM4 from OM1 and OM2 since the jacket color of OM1/2 is orange while OM3/4 is aqua.
However, it is quite difficult to distinguish OM4 fiber from OM3 as they feature the same color of aqua, especially when staring at the front of a panel where all the adapters look the same. Thus a new OM4 color of violet was introduced to solve the problem in Europe. And the new violet color of OM4 has gradually become widespread in recent years.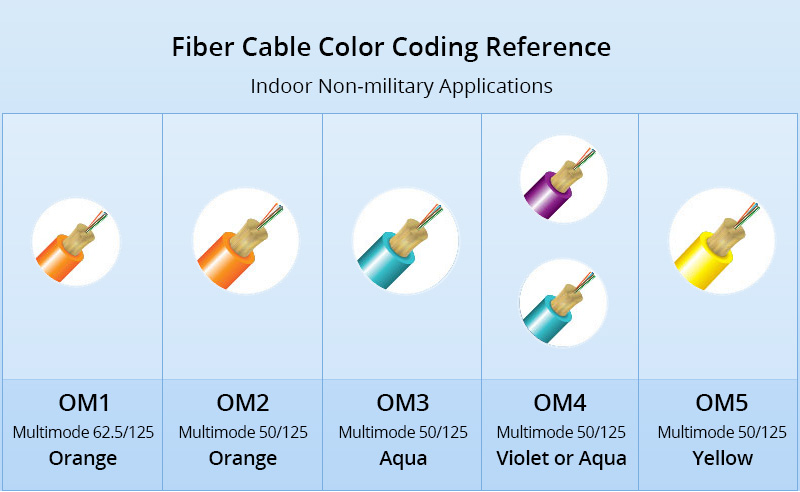 SMF and MMF Cable Color Coding Reference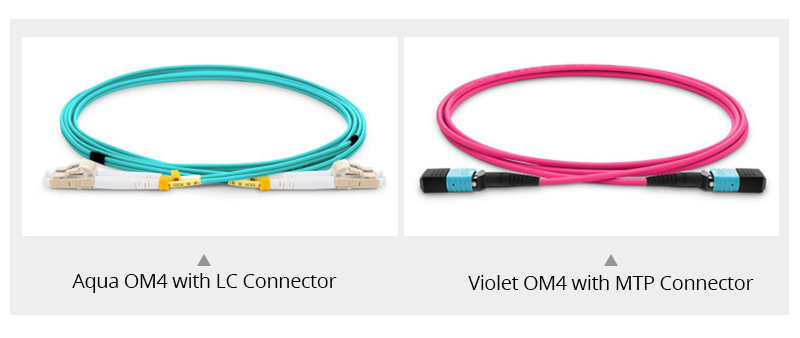 Aqua OM4 with LC Connector & Violet OM4 with MTP Connector
OM3 vs OM4: Bandwidth
One of the most important performance spec differences between OM3 and OM4 multimode fiber is the minimum bandwidth, which is also referred to as minimum effective modal bandwidth (EMB). Minimum EMB measures the multimode fiber's ability to minimize its distortion as the optical signal is transmitted through the fiber. The higher the EMB value, the lower the optical distortion. OM3 and OM4 are defined with different EMB. In 850nm measurement wavelength, OM3 has a minimum effective modal bandwidth (EMB) of 2000 MHz·km, while OM4 fiber has a minimum EMB of 4700 MHz·km. That's the vital reason why OM4 has a better performance than OM3.
OM3 Fiber Bandwidth vs OM4 Fiber Bandwidth
OM3 vs OM4: Attenuation
Attenuation comes in the loss of optical signal through the passive components, such as fibers, cable splices, and connectors. The attenuation of OM4 is lower than OM3. In 850nm measurement wavelength, the max attenuation of OM3 is 3.5 dB/km, whereas OM4 is 3.0 dB/km.
OM3 vs OM4: Cost Comparison
Here listing the prices of 2 meters OM3 and OM4 fiber with LC connectors from QSFPTEK.
It can be found that the price difference between these two is quite small, which is only $ 0.4.
Price of Fiber Optic OM3 vs OM4
---
Is OM4 compatible with OM3?
OM4 is backward compatible with OM3. However, compared with OM3, OM4 provides better performance with lower attenuation and operates at a higher model bandwidth. If you intend to have used OM4 but deployed OM3 accidentally, it may increase your optical link loss. Besides, mixing OM3 and OM4 fiber may result in bandwidth loss and bit error rate (BER) increasing. So it is not suggested that mix these two cables.
---
QSFPTEK provides OM3 and OM4 multimode fibers that exceed international standards for optical fiber, including ISO/IEC 11801, IEC 60793-2-10, and TIA-EIA. They are applicable in Ethernet, Fiber Channel, Infiniband, etc. Welcome to consult via sales@qsfptek.com.