SFP Module Introduction: SFP meaning, Fiber SFP and Copper SFP Types
Author Derek
Date 09/08/2022
SFP module is the core part of the optical fiber communication networks. This post will introduce everything you should know about SFP transceivers, including what is SFP, how an SFP work, what are the types of SFP modules and SFP variants, etc.
What is An SFP Module?
SFP means Small Form-factor Pluggable. SFP module is also referred to as the SFP fiber module or SFP transceiver. As the name implies, the SFP module is a small, hot-pluggable fiber optic network device used for data communication. It is commonly used in Gigabit Ethernet networks, providing a speed of 1.25 Gbit/s.
The SFP module has a number of key attributes, including:
• Small size - SFP module is developed from the GBIC module. GBIC means Gigabit Interface Converter. Both SFP and GBIC are applied in Gigabit Ethernet, providing speeds up to 1000Mbps. However, the SFP module is more than half the size of the GBIC module. The following is a comparative figure for SFP transceiver vs GBIC transceiver. The smaller size means switches with SFP ports enable higher port density than switches with GBIC ports.

GBIC module vs SFP module

GBIC port switch vs SFP port switch
• Hot-pluggable - The SFP module supports hot-plug, that is, no need to cut off the power supply, the module can be connected or disconnected from the switches. Hot-plug simplifies the maintenance process since the network manager can upgrade and expand the system without shutting down the network.
How does an SFP work?
The SFP optical module is composed of:
The laser (including transmitter TOSA and receiver ROSA), circuit board IC and external accessories. The external accessories include the shell, base, PCBA, pull ring, buckle, unlocking part, and rubber plug. In order to facilitate identification, the color of the pull ring is generally used to identify the different types of SFP modules.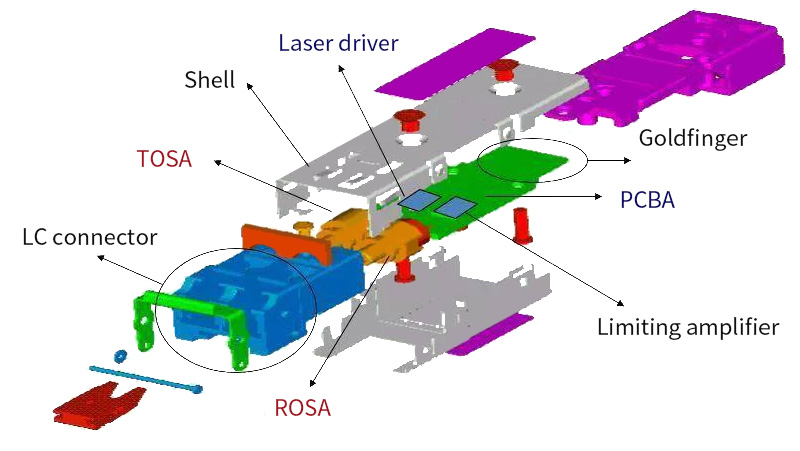 SFP module structure
SFP module, which works in the physical layer of the OSI model, is one of the core components of the optical fiber communication network. Its purpose is to realize electrical-optical conversion and optical-electrical conversion in optical fiber communication. The working principle diagram of the SFP optical module is shown below.

SFP working principle diagram
Firstly, the electrical signal is inputted through the SFP interface with a certain code rate. After being processed by the internal drive chip, the laser Diode ( LD) driver or light emitting diode (LED) emits a modulated optical signal. After the optical signal is transmitted through the optical fiber, the receiving SFP interface then converts the optical signal into an electrical signal by the LED and finally outputs the electrical signal after being processed by the preamplifier.
SFP Types
According to different classification standards, SFP modules have many different types. The specific SFP module types are described as follows:
1. Transmission media: Based on different transmission media of fiber optic cables and copper cables, SFP modules include fiber SFPs and copper SFPs.
• Fiber SFP modules include: 1000BASE-SX SFP module, 1000BASE-LX SFP module, 1000BASE-EX SFP module, 1000BASE-EZX SFP module, BiDi SFP module, CWDM SFP module, and DWDM SFP module. They are structured with LC connectors. BiDi SFPs use simplex LC connectors and others use duplex LC connectors. The max transmission distance of the fiber SFP optical module can reach up to hundreds of kilometers when connecting with the LC to LC single-mode fiber optic cable.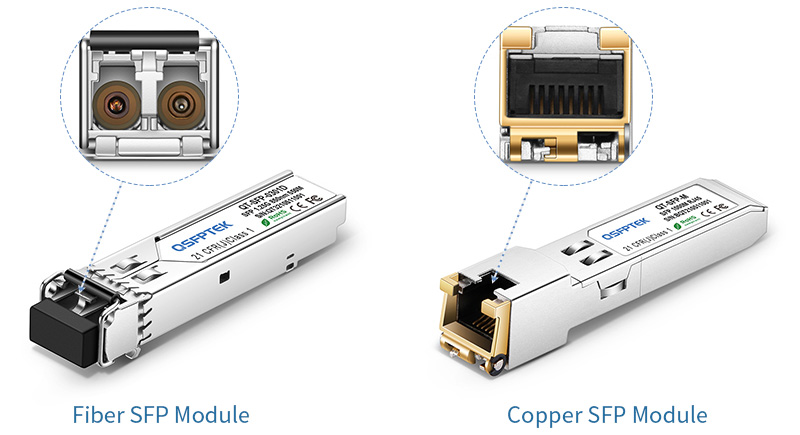 Fiber SFP vs Copper SFP
• Copper SFP modules include: 1000BASE-T SFP modules. They use RJ-45 connectors instead of LC connectors. 1000BASE-T copper SFP enables a link length up to 100 meters over Copper twisted-pair Cat5e cable or better (Cat6/Cat6a).
2. Cable core diameter: Based on different core diameters of connected cables, the SFP module can be categorized into multimode SFP and single-mode SFP.
• Multimode SFP modules: Refers to the SFP modules that work with multimode optical fiber cables. Multimode fiber cable has a relatively larger core diameter than single-mode fiber cables, hence it enables more than one propagation mode and leading to it being limited by modal dispersion. the modal dispersion influences the fiber cable's transmission capacity, multimode fiber cables are only suitable for relatively short-range communications, and so do multimode SFP modules. The most common multimode SFP transceiver module is 1000BASE-SX SFP, which allows a maximum distance of 550m at 1.25 Gbit/s speed.
• Single-mode SFP module: Refers to the SFP modules that work with single-mode optical fiber cables. Single-mode fiber cable is designed to transmit only a single mode of light with its small core diameter. The modal dispersion of single-model fiber is much narrower than multimode fiber, hence it supports a higher bandwidth than the multimode fiber and it is usually used in long-haul networks. 1000BASE-LX, 1000BASE-EX, 1000BASE-EZX, BiDi SFP, CWDM SFP, and DWDM SFP are all single-mode SFP transceiver modules.
Generally, equipment (including fiber optic cables, transceiver modules, etc.) for single-mode fiber is more expensive than equipment for multi-mode optical fiber.
How to Choose the Right SFP Module
Choose the suitable SFP specs
The major specifications of optical transceivers include speed, transmission distance, wavelength, interface, media type, working temperature. SFP modules are no exception. The specific parameters of SFP modules are listed as follows.
Speed: 1.25G/s
Transmission distance: hundreds of meters to hundreds of kilometers
Wavelength: 850nm, 1310nm, 1550nm, CWDM/DWDM wavelengths
Interface: RJ45/Duplex LC/Simplex LC
Transmission Mode: Multimode/Single-mode
Media Type: Copper Cat 5e/6/6a, MMF OM3/4/5, SMF OS2
Working Temperature: Commercial temperature (0-70°C), Extended temperature (-20-85°C), Industrial temperature (-40-85℃).
When choosing an SFP module, you should combine the SFP ports of your existing switches or router equipment and your actual application demands. For example, if your network switch is equipped with SFP RJ45 ports, you can only insert a 1000BASE-T SFP module instead of fiber optical modules. If your application scenario is long-haul transmission, then you should choose single-mode SFP modules, instead of multimode SFPs.
Make sure 100% compatibility
Third-party SFP modules have an advantage in cost-effectivity, but the compatibility issue must be emphasized. Qualified third-party manufacturers, such as QSFPTEK, will code and test 100% of the SFP modules to the exact specifications of OEM's switches & routers devices, instead of just an emulation test. Verifying the SFP modules are fully compatible and interoperable with the OEM switches or routers is vital for an SFP supplier.
Low power consumption should also be considered
Data center OPEX is closely bound up with the power consumption of SFP modules. The power consumption of the optical modules will vary because of the supplier's manufacturing quality. Some suppliers may use cheaper and low-quality components, the SFP modules they made can perform normally, but their modules have higer power consumption, which is not reliable through long usage periods.
The power consumption of two optical modules of the same type differs by a few watts or milliwatts, which also makes a big difference. Assuming that the power consumption of two 10G optical modules is 3W and 2.5W respectively, the power consumption of 48G switch optical modules can reach 144W (the former) and 120W (the latter). If the network now has 16pcs such 48G switches, the total value is 2300 watts and 1920 watts. It shows that large amounts of energy and operating costs can be saved in medium to large networks by using lower power consumption optical modules.
SFP Variants
Since SFP was introduced in 2001, it has evolved into many new variants. Typical SFP variant types include SFP+, SFP28, QSFP+, QSFP28, QSFP56, QSFP-DD, etc. These transceiver modules' main specifications are concluded in the following table.
Conclusion
The above post has detailed talked about SFP meaning, what is an SFP, SFP structure, how it works, SFP types and variants. If you need SFP modules or any SFP module variants (SFP+/SFP28/QSFP+/QSFP28/QSFP56/QSFP-DD), you can get them with the most reasonable prices and high-quality performance at QSFPTEK. Welcome to visit www.qsfptek.com, or contact our sales team via sales@qsfptek.com.