OM5 Fiber Wiki, What Is OM5 Optical Multimode Fiber?
Author Moore
Date 12/18/2021
OM5 fiber is a wideband multimode fiber, it used SWDM technology, and is identifiable by a lime green outer jacket. Do you know what features OM5 has, and the differences between OM5 with others fibers?
With the development of new technologies, data centers need greater bandwidth and higher speed to keep up with the pace of development. OM5 fiber, as a new model of multimode fiber (MMF), provides data centers with greater bandwidth and higher speed. Now, OM5 fiber is widely used in high-speed transmission. What are the futures of OM5 optical fiber and its advantages over other cables? This article will introduce OM5 fiber cable in detail.
OM5 Fiber Definition
OM5 fiber is a new type of multimode fiber cable, designed for high bandwidth and short to medium distance. The ISO and TIA (Telecommunications Industry Association) standardization organizations released the latest cabling standards ISO 11801 3rd and TIA-568.0-D respectively in 2017, it develop guidance for a wideband multimode fiber (WBMMF) 50/125 μm standard to support short wavelength division multiplexing (SWDM) transmission. The OM5 color is a lime green outer jacket, meanwhile, the geometry of OM5 (50μm core, 125μm cladding) is the same as the geometry of OM3 and OM4, so OM5 fiber cable is backward compatible with OM3 and OM4 fiber.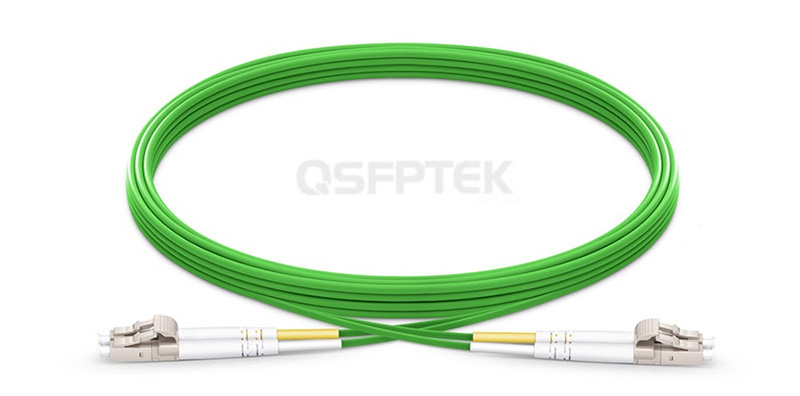 Figure 1: OM5 Multimode Fiber
OM5 is the first approved WBMMF (Wide Band Multimode Fiber). It uses a pair of fibers to transmit the data rate from 40GB/s to 100GB/s. The OM5 fiber cable is powered by shortwave wavelength division multiplexing (SWDM). This multiplexing design allows OM5 fiber optic cable to reduce the number of parallel fibers significantly.
The OM5 fiber cable operates in the range of 850 to 950nm wavelength and it can provide a 100GB data stream with only one pair of parallel optical fibers. The less optical fiber makes the less crosstalk, and the lower overall loss. The attenuation of OM5 wide band multimode fiber has been reduced from 3.5 dB/km for previous OM3, OM4 cables to 3.0 dB/km, and the bandwidth requirement of 953 nm wavelength has been increased. More importantly, OM5 fiber optic cable can utilize four independent wavelengths in its range, and the channel loss of each frequency is consistent. The OM5 multimode fiber distance is shown in the following table:
| | | | | | | |
| --- | --- | --- | --- | --- | --- | --- |
| | | Bandwidth (MHZ*KM) | | Distance Limitation | | |
| Fiber Type | Core/Cladding (μm) | Overfilled Launch (LED Source), 850nm | Effective Modal Bandwidth(LASER Source), 850 nm | 10GBASE-SR Distance | 40GBASE-SR4 Distance | 100GBASE-SR10 Distance |
| OM3 | 50/125 | 1500 | 2000 | 300m / 1000ft | 100m / 330ft | 100m / 330ft |
| OM4 | 50/125 | 3500 | 4700 | 400m / 1300ft | 150m / 500ft | 150m / 500ft |
| OM5 | 50/125 | 3500 | 4700 | 400m / 1300ft | 150m / 500ft | 150m / 500ft |
Figure 2: OM3 vs OM4 vs OM5 Bandwidth and Distance Limitation
What Is The WBMMF and SWDM Technology?
WBMMF
Wideband multimode fiber is the first choice for high-end data centers to build a network cabling system, Multimode fiber can increase the transmission rate to 100GB/s by using pairs of strands of fibers with the simultaneous light signal transmission in the data center. Each cable groups fiber pairs into up to 16 strands, which will improve the overall performance whenever adding a pair of fibers.
The feature of multimode fiber using a wideband allows each fiber strand to transmit data at the same time, allowing fiber pairs to work virtually to realize multiple pairs transmission. In the current application, the designed wideband multiplies the data rate by a factor of four. It is expected that future applications will use more synchronous frequency bands to improve the data rate further.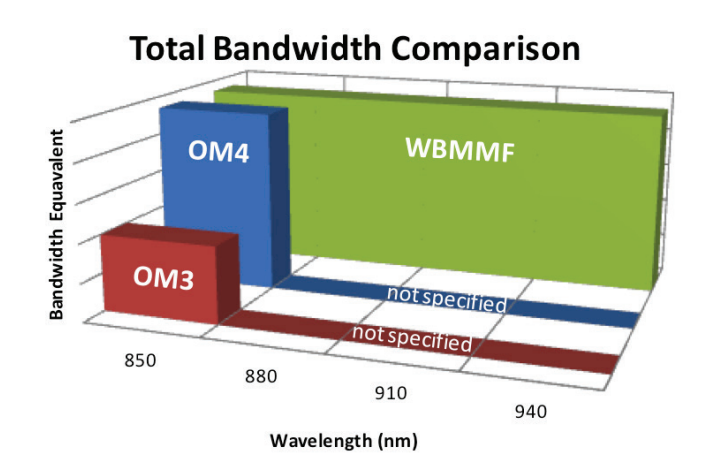 Figure 3: Total Bandwidth Comparison
SWDM
Shortwave wavelength division multiplxing(SWDM)is a new technology that transmits and receives the light of four different wavelengths at the same time over wideband multimode fiber, it is powered by a vertical cavity surface emitting lasers (VCSELs) to transmit data over a pair of optical fiber. The SWDM transceiver operates on wavelengths of 850nm, 880nm, 910nm, 940nm,the SWDM optics are designed to connect to a transceiver with OM5 multimode fiber by using 2-fiber connectivity. SWDM optics are compatible with OM3/OM4/OM5 cabling systems, but the SWDM transceivers can't be used in the existing fiber infrastructure unless they use wideband multimode fiber.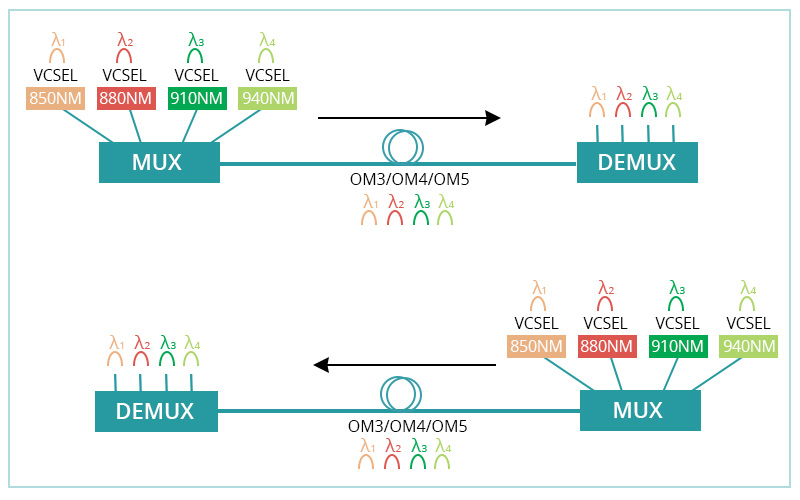 Figure 4: 100GbE(4x25GbE/Wavelength 2-Fiber SWDM)
Comparison OM5 Fiber with Others Optical Fiber
Cost
In fact, the OM5 cabling system is more expensive than OM4 about 50%, the cost of single-mode transceivers is also becoming lower due to silicon photonics technologies and the large demand in the market, which makes single-mode transceivers more cost-effectively, and most data center is willing to choose single-mode optics modules. For instance, a single-mode MTP trunk cable operates on 100GBASE-PSM4 which supports up to 500m and only costs $750.
OM4 VS OM5 Transmission Distance
In multimode IEEE applications, the maximum transmission distance supported by OM4 and OM5 is the same. For example, a 40G-SWDM4 transceiver can operate over OM4 supports a maximum transmission distance of up to 400m,while over the OM5 optics fibers is up to 500m. When the user deploys a 100G-SWDM4 optics module that does not comply with IEEE standards, it is proved that OM5 fiber can support a maximum transmission up to 150m, while over OM4 cables are 100 meters.
Fiber Count
Using OM5 multimode fiber in a 40G/100G connection solution can reduce the fiber count. Compared with OM3 and OM4, OM5 fiber is the latest version and it is backward compatible with OM3 and OM4 fiber cabling. By using SWDM technology, This fiber uses only two OM5 fibers and 40/100G SWDM4 transceivers in 40G and 100G SWDM4 cabling.
Management & Installation
The multimode connection with MTP/MPO breakout cabling system in 40G/100G network provides a more user-friendly solution for data centers and building and campus backbone, especially in installing cabling system, troubleshooting, cleaning, and overall maintenance.
Conclusion
Although the price of single-mode fiber is lower than the OM5 multimode fiber price, multimode fiber can save more fiber cost. Meanwhile, it has more superiority in installation, troubleshooting, cleaning, and other aspects, which is also the reason why most data centers will choose the OM5 optical fibers. However, the maximum transmission distance of OM5 will decrease with the increase of transmit rate. Well, how to use OM5, it is better to select OM5 within 500m and it is better to choose single-mode fiber at a distance of more than 500 meters. QSFPTEK offers high-quality and high-density optical fibers, if you still have any questions, you can contact sale@qsfptek.com.