How Far Can 10GbE Run by 10GBASE-T SFP+ or Fiber to Ethernet Converter?
Author Aiyden
Date 11/28/2022
10GBASE-T SFP+ can transmit a max 100 meters that Ethernet standard specified. Then how to extend reach beyond that restriction for long-distance transmission?
Two devices have wide adoption in 10 Gigabit Ethernet connectivity when fiber to copper or vice versa are considered. They are 10GBASE-T SFP+ transceivers and SFP+ to RJ45 media converters.
10GBASE-T SFP+ is an SFP+ to RJ45 adapter, commonly used when one site with pure SFP+ ports is needed to link to the copper RJ45 site. Plugging the 10G-T module into the SFP fiber port can convert the media from fiber to copper for the RJ45 connection. Typical scenarios include: connecting the fiber SFP+ ToR switch to the storage, server, or 10GBASE-T switches or end devices with RJ45 interfaces.
Fiber-to-copper media converter has built-in SFP/SFP+ ports and RJ45 interfaces. It can convert the LAN copper link to a fiber link, making signals go further by transmitting over optical fiber media.
The following part will discuss the transmission distance by adopting the above two products respectively with the Youtube KOL test out of the box.
---
10GBASE-T SFP+ Distance Test From Lawrence Systems
In this video, Lawrence Systems compared three 10G copper SFP+ transceivers from three vendors: QSFPTEK, Mikrotik, and FS. It tested the distance these optics can run over Cat6 or Cat6a cables. The three transceivers are shown in the video screenshot below:
1. Mikrotik S+RJ10
2. FS SFP-10G-T 80m
3. QSFPTEK QT-SFP-10G-T 30m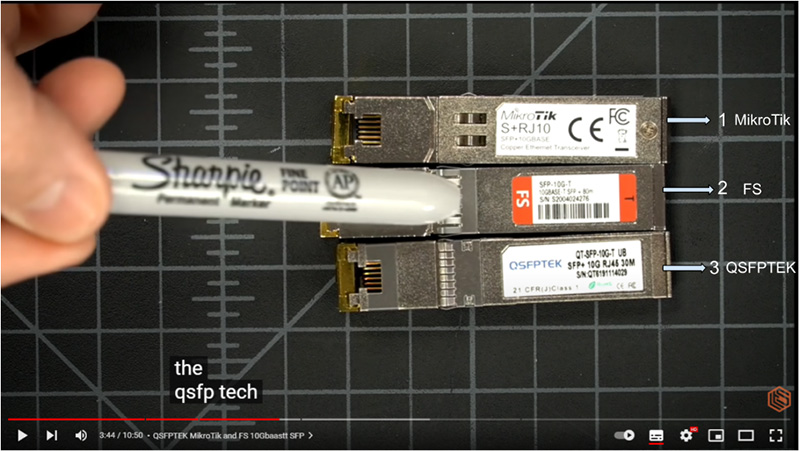 It concludes that FS SFP-10G-T 80m can get 80 meters or even longer. However, Mikrotik RJ10 can only reach 30 meters though the website says it can get 200 meters.
QSFPTEK QT-SFP-10G-T 30m can work well in a short distance limit of 30 meters just as specified on their website. The exact words are: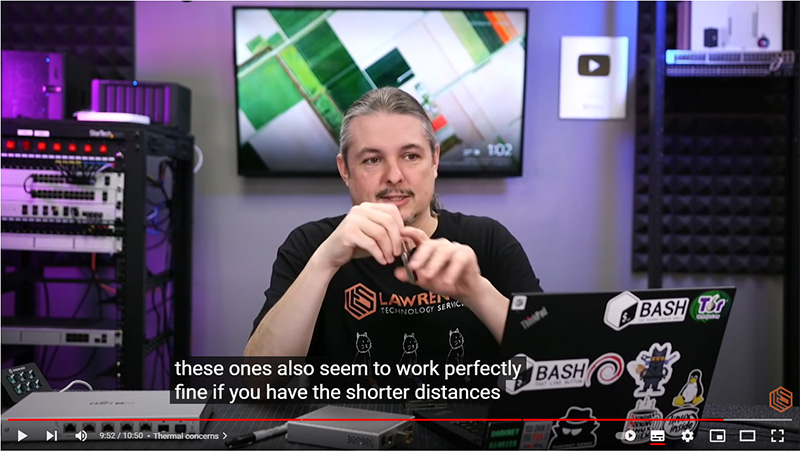 "These* ones also seem to work perfectly fine if you have shorter distances. If you're doing your home lab or in the same room, well you are probably not that far away, and you should be able to get away with it perfectly fine."
*Note: Refer to the QT-SFP-10G-T 30m from QSFPTEK
---
100 Meters is the Distance Limit of 10GBASE-T SFP+ Optics at 10Gig
Lawrence Systems' evaluation is honest, except it compares the QSFPTEK 30m model to the FS 80m model. Indeed, besides the QT-SFP-10G-T 30m model mentioned in the video, QSFPTEK also provides the QT-SFP-10G-T-80 model. It is specified for a max transmission distance of 80 meters at 10Gbps over Cat6a or Cat7 cables, which is the identical equivalent to the FS model.

The price is quite different if we compare the same distance models of SFP to RJ45 10Gb transceivers from FS and QSFPTEK.
Additionally, the max distance of connection over Ethernet copper is 100 meters. Check the Cisco website, the SFP-10G-T-X model supports a 10GBASE-T data rate of up to 100 meters over Cat6a/Cat7 cables.
---
Using QSFPTEK Ethernet to Fiber Converter to Extend Copper Connection Beyond 100 Meters
As the cabling standard specified, the copper cable distance is within 100 meters (328 feet). Beyond that, the connectivity will degrade, and problems such as package drops will occur.
However, there are situations where two legacy devices are farther apart but with RJ45 LAN ports only, which need to be connected over a long distance beyond 100 meters.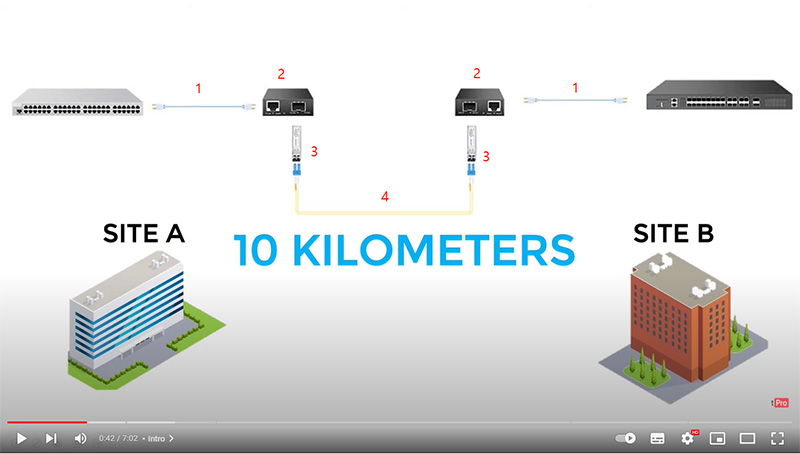 Imagine there are two buildings respectively at site A and site B, between which the distance is 10 km far. On each side, there is an Ethernet switch with 10G RJ45 LAN ports only. We need to connect the two switches for data communication. Obviously, directly plugging in Cat5e, Cat6, or Cat6a cables to the RJ45 ports can not work, because it can only go up to 100 meters or shorter.
In this circumstance, you can deploy an RJ45 to SFP fiber media converter at each side symmetrically to convert the LAN copper cabling to fiber cabling for line transmission. In this way, the LAN in the building at both ends still uses copper cables for data communication, but the line transmission relies on optical fiber for long-distance transmission. Matching with single-mode 10G LR 10km transceiver modules, it can realize a max transmission of 10km.
Product Preparation:
We prepare the following items to extend the 10G throughput reach beyond the 100m restriction, and enable a transmission distance of 10 kilometers.
1. Two Cat5e/Cat6 patch cables
2. A pair of 10GBASE-T to 10GBASE-X SFP+ copper to fiber media converters
3. A pair of 10GBASE-LR SFP+ modules
4. A duplex OS2 single-mode fiber patch cable
Connectivity Guide:
On each side, insert the 10G LR module into the media converter SFP+ port, then plug in a 10km long OS2 SMF to the module to make a link between the two media converters.
On each side, use a Cat5e, Cat6, or Cat6a patch cable to connect the media converter RJ45 port to the switch RJ45 port.

In the solution, by using 10G RJ45 to SFP+ media converters, we succeeded to convert the local area RJ45 port to the fiber SFP+ port, providing a receptacle for the fiber link. This is a cost-effective and easy solution to address the 100m restriction of Ethernet copper cable transmission and extend the reach to tens kilometer level.
Note:
For FE or GE connection, go for this 1000BASE-X SFP to 1x 10/100/1000Base-T RJ45 gigabit media converter instead the above 10G media converter.
Reviews from Torogi Pro: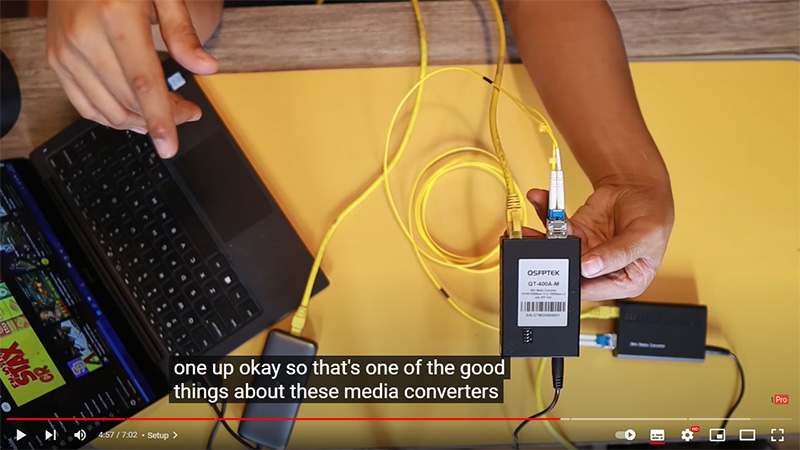 "So this works perfectly for this kind of setup. And one of the things that you can see here is this is very cost-effective in terms of connecting sites that distance, and you're going to get to use fiber okay from site A to site B. "
---
QSFPTEK provides not only a full range of connectivity products but also solution design and technical support. Quote about the 10GBASE-T SFP+ transceivers, and media converter price, or have confusion about your connectivity? Feel free to ask our expert via the right conner chat now box or sales@qsfptek.com, we are always happy to hear from you.