How to Choose an SFP28 Transceiver: SFP28 Wiki, Types and Application
Author Derek
Date 11/05/2021
10G to 25G to 100G upgrade path is widely accepted to be a more effective and practical solution for current Ethernet and server upgrades than 10G to 40G to 100G. With mature production technology of SFP28, the price of 25G SFP28 transceivers reduced gradually in recent years, it will be a wise option to upgrade 10G SFP+ to 25G SFP28 now. This article will introduce a series of different SFP28 transceiver types to you, and help you to choose the SFP28 transceiver you need.
25G SFP28 Transceivers Spec
SFP-25G-SR-S Transceiver Wiki
25GBASE-SR (Short Reach) SFP28 transceiver supports up to 70m link lengths on OM3 and 100m on OM4 over Multi-mode fiber(MMF) with duplex LC connectors at 25Gbps data rate. 25G SFP28 SR provides a cost-effective solution for high bandwidth and transmission data rates at 25Gbps over short distances. Besides 25G SFP28 SR also provides an easy point-to-point fiber direct connection solution for 5G fronthaul, however, which will take a lot of fiber resources and is suitable for the area that is rich in fiber resources.
SFP-10/25G-CSR-S Transceiver Wiki
10/25GBASE-CSR SFP28 is a dual-rate optical transceiver. It also supports up to 70m link lengths on OM3 and 100m on OM4 over MMF at 25G speed, which is the same as 25G SFP28 SR. Nevertheless, unlike SFP28 SR only supports 25G, SFP28 CSR enables work at dual rates of both 25G and 10G. It supports 10G up to 100M on OM3.
Advantages of dual-rate 10G/25G SFP28 CSR include:
1. Back Compatible and Interoperable with 10G
Dual-rate 10G/25G CSR SFP28 compatible with SFP+ 10G switch/router port and flexibly configured for 10G or 25G in SFP28 25G switch/router port. Besides, the dual-rate feature allows 25G SFP CSR transceiver interoperable with both 25G SFP28 SR and 10G SFP+ SR, which allows the network to upgrade at either end of the fiber.
2. Simplify Network Upgrades and Save Costs
The dual-rate capability easily seamlessly upgrades your network from 10G to 25G as needed with no change to the optics, and maximizes existing multi-mode cabling infrastructures, as shown in Fig. 1.


Fig. 1 - 10G/25G dual-rate transceivers applied in 10G to 25G networks
SFP-25G-LR-S Transceiver Wiki
25GBASE-LR (Long Reach) SFP28 transceiver supports up to 10km link lengths on single-mode fiber(SMF) at 25G. The 25G SFP28 LR transceiver is designed for medium and long-distance transmission while the 25G SFP28 SR is designed to transfer data over short distances.
SFP-25G-ER Transceiver Wiki
25GBASE-ER (Extended Range) SFP28 transceiver supports up to 40km link lengths on SMF at 25G. 25G SFP28 ER is used in long distance transmission for data centers and enterprise networks.

25G BiDi Transceiver Wiki
SFP-25G-BXD-10 and SFP-25G-BXU-10 25G BiDi (Bi-Directional) SFP28 transceivers support up to 10km link lengths on SMF at 25G. SFP-25G-BXD-10 transceiver is connected to an SFP-25G-BXU-10 transceiver with a single strand of SMF. Communication is achieved on the single strand of fiber by separating the transmission wavelength (1270nm and 1330nm) of the two transceivers. The SFP-25G-BXD-10 transmits at 1330nm and receivers at 1270nm while the SFP-25G-BXU-10 transmits at 1270nm and receives at 1330nm. 25G SFP28 BiDi transceiver is widely applied in today's networking, like Enterprise Campus Networks, Internet Service Provider (ISP), and Metro Networks. 25G SFP28 BiDi also can be used in 5G fronthaul fiber direct connection solution, as shown in Fig. 2. Compared to the 25G SFP28 SR/LR solution, 25G BiDi solution support saves a lot of fiber resources.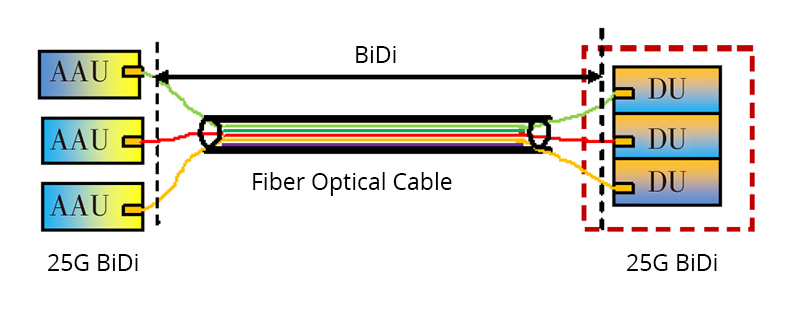 Fig. 2 - 25G BiDi SFP28 transceivers applied in 5G fronthaul
25G WDM Transceiver Wiki
In 5G network construction, 25G BiDi fiber direct connection solution is the first choice in rich optical fiber situations, however, in insufficient areas, WDM technology will be the priority choice.
25G SFP28 CWDM (Coarse Wavelength-division Multiplexing) supports up to 10km link lengths on SMF. The normally used wavelengths are 1271nm~1371nm and 1471nm~1571nm. 25G CWDM SFP28 is designed for 25G Ethernet, CPRI/eCPRI and 5G fronthaul. In the 5G area, 6-wavelength (1271nm~1371nm) solution and 12-wavelength (1271nm~1571nm) solution are mainly adopted. The 6-wavelength solution is commonly used in 5G fronthaul and 12-wavelength solution is used in a mixed transmission situation of 4G and 5G.
See how is 25G CWDM used in 5G fronthaul.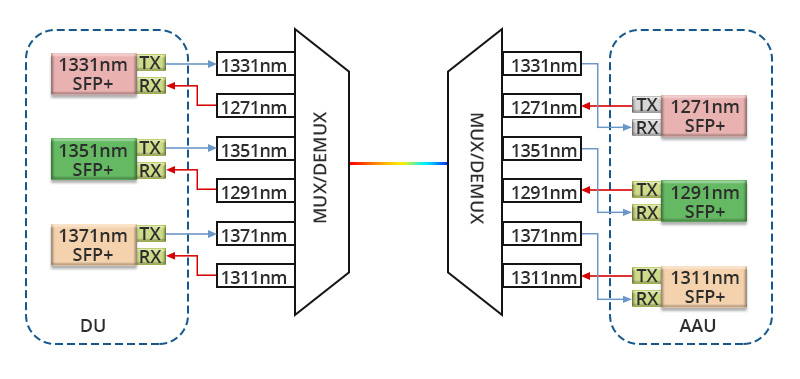 Fig. 3 - 25G CWDM SFP28 transceiver applied in 5G fronthaul

25G SFP28 DWDM (Dense Wavelength Division Multiplexing) supports up to 10km transmission distance on SMF. The wavelength from 1563.86nm to 1528.77nm, with a wavelength bandwidth of 100GHz (0.8nm). The 25G DWDM SFP28 transceiver is widely used in backbone networks, metro networks, and 5G fronthaul. 25G DWDM SFP28 solution is more costly than 25G CWDM and is usually deployed in insufficient fiber resources areas.
Conclusion

25G is a dominant path for data center upgrades to 100G, 200G, or even 400G. 25G SFP28 transceivers are being mainstream currently and in the most demand on the markets. QSFPTEK is an original brand of fiber optic transceiver factory outlet and provides quality assured 25G SFP28 transceivers at the best price based on mature 25G SFP28 production techniques. You can ask any questions about SFP28 via sales@qsfptek.com.