QSFP DAC VS AOC Cables, 40G QSFP+ Cables Guide
Author Moore
Date 12/13/2021
What are 40G QSFP AOC and DAC cables, how much do you know about AOC cable vs DAC? This post will introduce the definition of QSFP+ cable, and show the differences between AOC cable and DAC cable.
As the data center needs to migrate to a higher data transmission rate to 40G, the data center and enterprise network need a cost-effective solution and higher performance of cabling, there are many different types of 40G QSFP+ cables on the market that can meet these needs. The features of cost-effectiveness and higher performance make them very popular in data center networks. So do you know the difference between them, when should they be used, and how to determine which one is your best choice? This article will give you the answer.
What Is QSFP Direct Attach Cable
QSFP DAC Definition
QSFP+ DAC cable is a high-speed integrated Twinax cable with a QSFP+ connector on either end of the cables, linked for two-directional communication. The QSFP 40G DAC is composed of a silver-plated conductor and foaming insulation cable, the Direct Attach Cable copper uses twisted-pair shielding to transmit electrical signals. Because copper wire transmission is adopted, this will cause the electrical signal passing through the Direct Attach Cable to produce transmit loss, which requires more The gauge varies from 24 to 30 AWG to abate the loss rate. The following picture shows a DAC cable in the switch: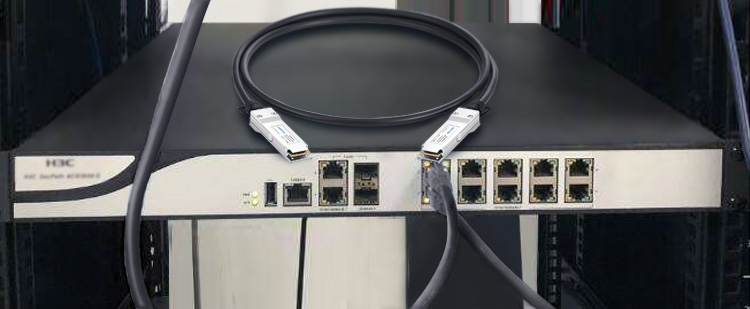 Figure1: a DAC cable in the switch
QSFP DAC Type
There are two types of Direct attach copper cable including passive DAC and active DAC. Active DAC has one more driver chip for signal conditioning than passive DAC. Since passive Direct Attach Cable has no electric components, it will not amplify or condition the signal in any way, its transmission mode is that the signal passes through the host network equipment and is regenerated by it. The maximum transmission distance of passive QSFP DAC cable is 7m, power consumption is almost zero, and the maximum transmission distance of active Direct Attach Cable is about 10m or more, the power consumption is about 440mW. Generally speaking, in data centers, most cabling systems will choose passive DAC.
QSFP DAC Application
There are two types of 40G QSFP+ DAC — 40G QSFP+ to QSFP+ DAC, 40G QSFP+ to 4×SFP 10G DAC on the market, 40G QSFP+ DAC copper cables are used for a short distance up to 7m to link up a 40 Gigabit link between QSFP ports of switch within racks and cross adjacent racks. Because it saves costs, lowers power consumption, and high performance, 40G QSFP+ DAC Twinax cables are widely used in SAN (Storage Area Network) and high-performance computing connectivity in data centers.
What Is QSFP Active Optical Cable
QSFP AOC Definition
QSFP AOC cables use a duplex multimode optical fiber and either end of the termination is a QSFP+ connector, because of contains an electronic component, QSFP optical cables are more expensive and more complex than DAC cables. Since a QSFP 4x10G AOC requires external power to convert electric and optical signals, the power consumption is about 2W. Because of the adoption of optical fiber materials, the transmission distance supported by 40G AOC cable is much longer than that of DAC cable, which can reach up to 100m.
QSFP AOC Application
Compared with copper DAC, AOC has more advantages, such as signal integrity, longer transmission distance, management interface, lower transmit loss, etc. However, the cost of AOC is much higher than Direct Attach Cable because it uses optical fiber. QSFPTEK provides many different models of QSFP cable, including 40G QSFP+ to QSFP+ AOC, 40G QSFP+ to 4x SFP + breakout AOC, and 40G QSFP+ to 4x duplex LC breakout cables. In most cabling systems, 40G AOC is widely used in the field of consumer devices, such as cameras, HD TVs, and data center networks which support modern data communication systems. The following pictures show the QSFP AOC application in switches.

Figure 2: QSFP AOC application in switches
The Differences Between AOC and DAC
After introducing the two different high-speed cables, we will introduce the differences between the two cables in detail from the aspects of transmission distance, cost, and transmission distance.
Cost
Generally, the cost is often the most important consideration. Comparing the two products, we mentioned earlier that Direct Attach Cable has a lower cost because it has one less electronic component than AOC, for example, in QSFPTEK, 5M Cisco QSFP H40G CU5M Compatible 40G QSFP+ Passive Direct Attach Copper Cable is 28 dollars, while a 5M Cisco QSFP H40G AOC5M Compatible 40G QSFP+ Active Optical Cable is 64.8 dollars.
Power Consumption
The main reason why DAC active copper cable and AOC can support longer transmission distance than passive copper cable is that they support active electronic equipment. The passive copper cables do not require power. For a 40G transmission, the power required by an active copper cable is about 440mw, which is much lower than AOC power consumption of 2W. At the same time, it will also affect the cooling system of the data center. Higher power consumption will generate more heat in the data center, which will put a greater burden on the cooling system of the data center. A thinner QSFPTEK optical cable will also have better heat dissipation performance in the data center.
Transmission Distance
Note that, due to the natural characteristics of copper, the maximum distance of the QSFP Direct Attach Cable cable will vary with the data rate. When the transmit rate is increased, the transmission distance will be reduced, for example, a 40G QSFP+ DAC copper can only transmit a maximum of 7 meters. This leads to the DAC Twinax cable can only be used under some limited conditions: usually on the same rack in the data center, connecting a server to a TOR switch. Then AOC cable is introduced to overcome this long-distance transmitting challenge. Because AOC uses the cable of optical fiber the maximum transmission distance can reach 100m, which is much longer than that of the passive copper cable.
Conclusion
Through this article, you might know how to select the appropriate high-speed cable. The transmission distance is within 10m, such as in the same rack in the data center, QSFP+ DAC cable is recommended. When the transmission distance is between 10m and 100m, QSFP+ optical cable is recommended, of course, the cost will be higher. If you still have any questions, you can contact sale@qsfptek.com.