Campus Converged Wired and Wireless Solution
Author Aiyden
Date 05/08/2023
The solution enabled high-speed and stable wireless access, which resulted in ubiquitous WiFi coverage throughout the campus, including the outdoors and various buildings.
Background
Challenges
Given that the campus area is extensive, including the two teaching buildings, the science and technology museum, the art and sports building, the library, student apartments and the canteen. The significant difficulty is to realize high-speed and stable wireless access for the entire network. Besides, managing the highly integrated wired and wireless network is also a tough project.
Solutions
Based on the campus' construction feature, QSFPTEK tailored a networking solution with three-tier architecture, using networking devices including network switches, wireless access points (APs) and access controllers (ACs).
In the core layer, two S7600-32C switches were deployed to meet high-performance and high-speed switching. The S7600-32C is a 32 port 100G layer 3 switch with 6.4 Tbps switching capacity and 3571Mpps forwarding rate. MLAG is configured between the dual-core switches to improve network performance, resiliency, and scalability, while simplifying network design and reducing costs.
In the aggregation layer, each building installed an S7300-48X2Q4C switch for aggregating all traffic from the access layer in the local building area. S7300-48X2Q4C features high-density and high-diversity ports, including 48 SFP+ downlink ports, 2 QSFP+ and 4 QSFP28 uplinks. The switching capacity and forwarding rate are respectively 1920 Gbps and 1440 Mpps, endowing the capacity to handle all the traffic from the access.
In the access layer, 40+ S5300 and S5600 series managed edge switches were deployed to provide gigabit wired network access for end devices on all floors. These include 8-port gigabit switches, 24-port gigabit switches and 48-port gigabit switches with various port options, such as PoE, SFP+ uplinks and SFP ports. All the access switches are user-friendly, supporting easy configuration by using a console port or WEB-based interface.
Besides, to realize ubiquitous WiFi access in the whole campus, we recommend the client to deploy about 200 indoor WiFi 5 APs and 10 outdoor WiFi 5 APs. An AC is applied next to the core switches to enable integrated management of wired and wireless networks.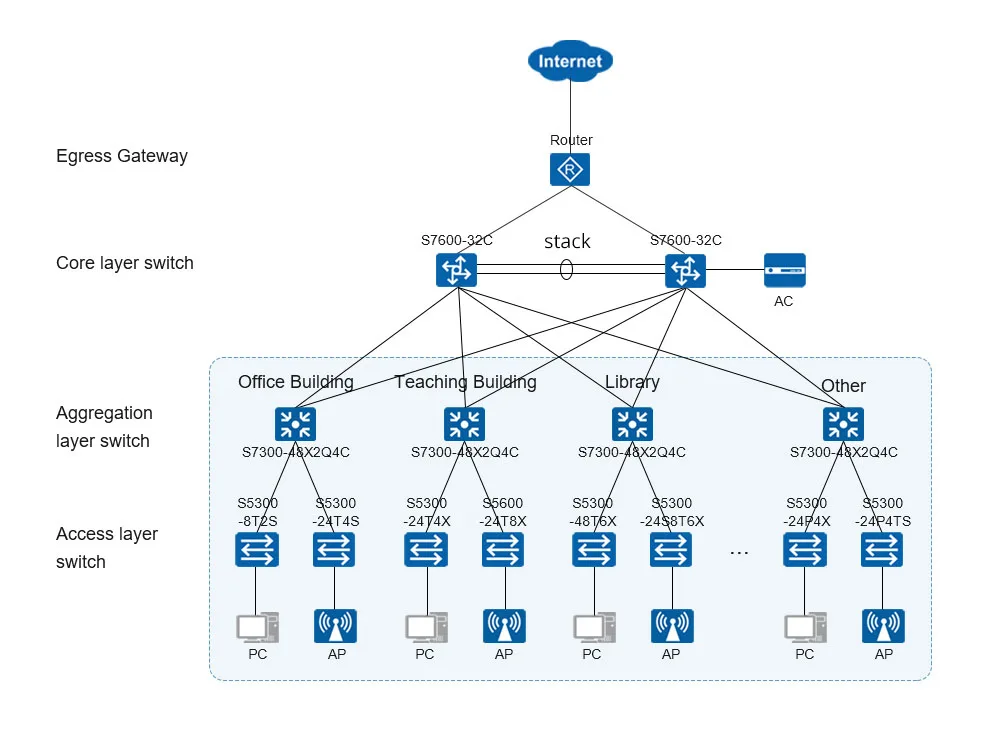 Related Products: