Optical Line Protection — OLP Switching for Uninterrupted Optical Communication
Author Aiyden
Date 09/29/2022
Do you know the meaning of OLP in telecom? This post introduces the knowledge basis of a new arrival OTN product optical line protection. It also mentions the connectivity solution for your reference.
Fiber optic communication is found in wide scenarios, such as universities, enterprises, industries, metropolitan, etc. Demanding applications always drive new technology and products to be born. As we know, network failure may happen anytime anywhere. While it is inevitable, you can plan. For optical transport networks (OTN), the long-haul fiber optic lines for transmitting optical signals are risky. Optical Line Protection (OLP) is one of the products to back up fiber lines and safeguard the smooth flow of service by auto-restoration in unexpected link failure. Read on to learn how OLP works to realize uninterrupted optical communication.
---
What is OLP Optical Line Protection?
OLP (optical line protection) is a card module board used in fiber optic line protection. It can monitor the optical power status in real-time and fast recover in fiber link failure. The device includes an optical detector at both ends, which constantly monitors the optical power in case there are any issues. The OLP switch has dual fiber lines — a working primary link and a redundant link.
When the optical power of the working fiber is lower than the specified threshold, the OLP board will auto-switch from the working fiber to the standby fiber to revive the communication and realize uninterrupted optical fiber communication. The adoption of OLP enhances the reliability of optical fiber lines and decreases the loss brought by potential link failure.
---
When to Adopt OLP Switch?
An optical line protection system is applied in optical transport networking to provide security and reliability for demanding optical transmission. In a real application, OLPs are found in pairs at both ends of the communication line and linked over fibers in between. On each end, they respectively connect to a fiber port switch for communication. Besides, OLP modules are often matched with other OTN devices such as Mux Demux, EDFA, and DCM and are highly integrated into managed Chassis Platforms to offer optimal signal transmission for high-performance and long-haul WDM networks. it is widely deployed for protecting the backbone and pivotal business line.
---
What are the Types of OLP? — 1+1 OLP vs 1:1 OLP
Two common types of optical line protection switches are 1+1 OLP and 1:1 OLP. They have different configurations. The former uses a dual transmitting and selective receiving mode while the latter uses a selective transmitting and selective receiving mode. To understand how each method functions, the following part will illustrate the working principles with diagrams.
Note: The arranged left and right green blocks stand for a pair of OLP protection at two ends of the fiber line.
1+1 OLP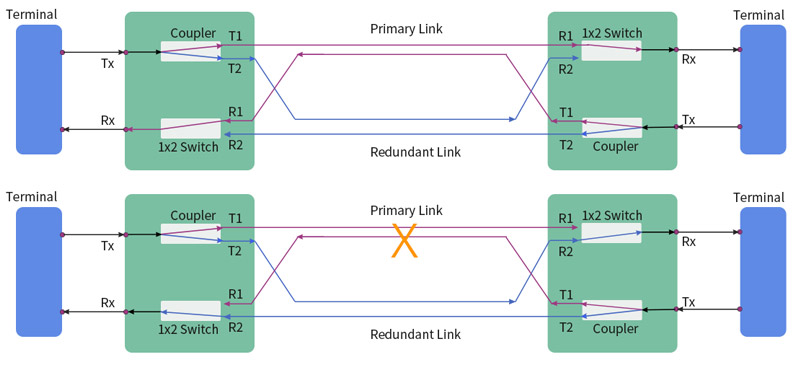 In 1+1 OLP, the optical signal from the transmitter will be evenly divided into two routes. Optical communication is transmitted through two fiber lines simultaneously. On the receiving side, if one of the two links are detected power issues, the OLP will optionally receive the line with better signal quality.
1:1 OLP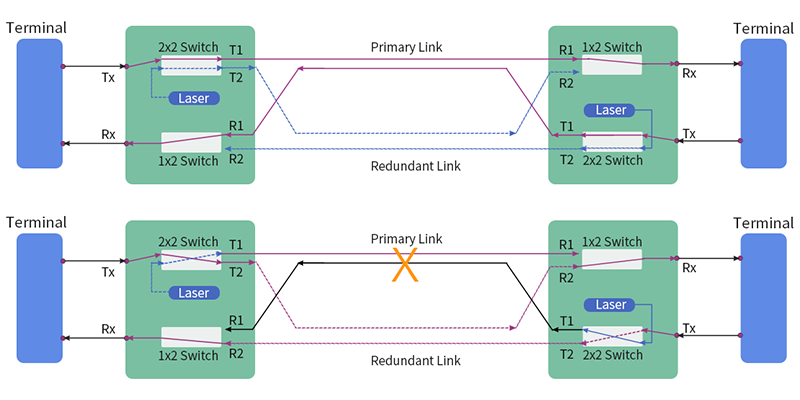 When 1:1 OLP is under normal operation, the optical signal is transmitted and received through the primary link only. Once the optical power in the working main fiber has a fault, the laser will turn off, so then both ends will detect the failure. The OLP will switch the malfunctioning working fiber to the vacant fiber to auto restore the communication.
Comparing 1+1 OLP and 1:1 OLP, they have their advantages and disadvantages. 1+1 line protection has faster fiber line recovery speed while with more insertion loss.
1:1 OLP with passthrough signal owns lower insertion optical loss. Besides, given that in normal operation, the standby fiber is redundant, it can also be used for other businesses. However, the 1+1 OLP fiber will always occupy dual fiber lines. The biggest cons of 1:1 OLP optical line protection are response delays in some legacy equipment that requires a CPU to process data information.
---
What are the Key Features of OLP Boards?
We know that the functions of OLP are monitoring the optical power status and automatic switching to backup fiber. The goal is to detect the power issue in time and ensure the normal flow of services. Thus switching speed is a key parameter to measure the efficiency in response to emergencies. Fast switching speed can shorten the interrupt time, thus minimizing the data loss in fiber link failure.
---
QSFPTEK Optical Line Protection Introduction
September 5th, 2022, QSFPTEK News – QSFPTEK launches an optical line protection module card to deliver security for fiber optic lines in optical transport networks.
Features:
This 1+1 OLP deploys a dual-line simultaneous transmitting and selective receiving working method, featuring lower cost, and faster-switching speed. It offers an <20ms ultra-fast switching speed and <5dB insertion loss. Also, the OLP switch has a wide wavelength range from 1260nm to 1650nm. Besides, it supports various management types including CLI、Telnet、SNMPv2、Web. The transparent transmission characteristics enable you to check performance data anytime remotely.
The OLP specification is shown in the table below.
Ports:

This line protection block has three connectors to direct patch fibers. One port is for linking to local equipment on the same end. The other two interfaces are the primary and the secondary port for connecting to the OLP on the other end over long-distance fibers.
Related Products: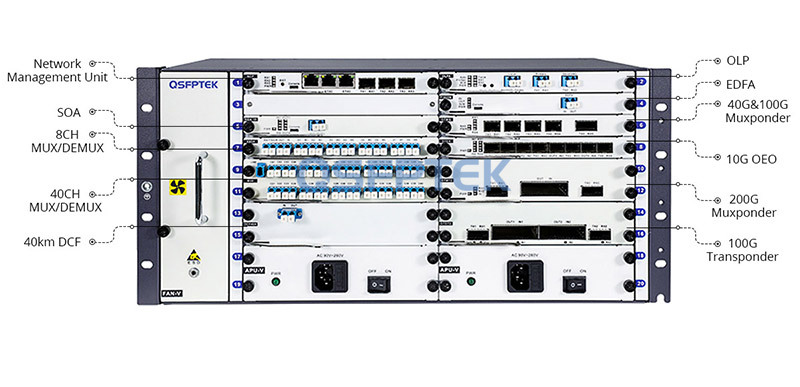 This OLP can be loaded into the QT8600 series chassis platform, optional for the 5U chassis platform and 2U chassis platform. A highly integrated platform can save rack space, protect the module card from damage and offer power supplies and the cooling system in one unit. It is an ideal solution for building a high-capacity optical transport network.
Connectivity Guide:

In the DWDM network, Mux Demux, OLP, EDFA amplifiers, and DCM are often used together for optimal reliability in long-haul fiber line transmission. The above diagram shows a paired OLPs are placed on both ends to provide fiber line protection in a point-to-point DWDM network. The dual fiber in between provides redundancy for potential optical power faults.
Solution Product Portfolio:
Final Words
Thanks to the technology of DWDM, optical signals over long-haul fiber cables become possible. However, it also poses challenges to the stability of the network. Thus network operators must ensure the proper safeguard equipment is installed in right place to ensure uninterrupted optical fiber communication.
The compensation products such as EDFA booster, and DCM to recoup power and dispersion, signal qualities are guaranteed to be detectable even after undergoing such a long journey. The OLP switch offers fiber protection and gives extended OTN the ability to run robustly under changeable and immeasurable failure scenarios.

For OTN products and solution quotations, please contact sales@qsfptek.com.