What Is 400 Gigabit Ethernet (400 GbE) and Do We Need It?
Author Leslie
Date 04/03/2023
This article introduces what 400G is and what problems it can solve, and lists QT's 400G network equipment.
With the increasing demand for transmission speed and capacity, people are paying more and more attention to 400G network equipment. Due to the continuous development of technology and the increasing demand for network applications, transmission speed and capacity have become bottlenecks in the development of network equipment. Currently, the demand for transmission speed and capacity has far exceeded the capabilities of existing network equipment. Therefore, 400G network equipment has become the focus of industry attention in order to meet the high-speed transmission and large capacity requirements of cloud storage, artificial intelligence, 5G, and other fields.
In this article, we will explore the relevant knowledge of 400G network equipment and answer the question of whether we need these devices.
What is 400G Ethernet?
400G ethernet is a high-speed data transmission technology that simultaneously transmits multiple data streams on a single optical fiber to achieve higher bandwidth and faster speeds. It uses PAM4 modulation mode, which provides a 50Gbps transmission rate per channel, compared to the traditional NRZ modulation mode, which offers 25Gbps per channel. Additionally, PAM4 outperforms NRZ in long-distance transmission.
PAM4 modulation allows for more data to be transmitted simultaneously, achieving higher bandwidth and transmission rates while reducing power consumption and costs. As a result, 400G network equipment has become one of the focuses of current network equipment development. It can meet the demand for high-speed data transmission and is widely used in fields such as cloud storage, artificial intelligence, and 5G.
What problems can 400GbE solve?
400G Provides a Higher Transmission Rate and Capacity
400G ethernet can provide better solutions for the expansion and upgrading of data centers. Data centers typically require large bandwidth and storage capacity, and 400G network equipment can provide higher transmission rates and capacity to meet the demands of data centers.
Big Data Analysis
Additionally, the 400G ethernet can also help with big data analysis. As the scale of data continues to grow, the need for big data analysis becomes increasingly urgent. 400G network devices can provide faster transmission rates and greater capacity, helping businesses to better conduct big data analysis.
5G and IoT
Furthermore, 400G ethernet can also support 5G and IoT, meeting the increasing demand for IoT devices with high bandwidth and low latency.
Energy Saving
Finally, 400G network equipment can achieve energy saving and environmental protection. Compared to traditional network equipment, 400G network equipment can achieve higher energy efficiency, reducing energy waste and achieving energy saving and environmental protection goals.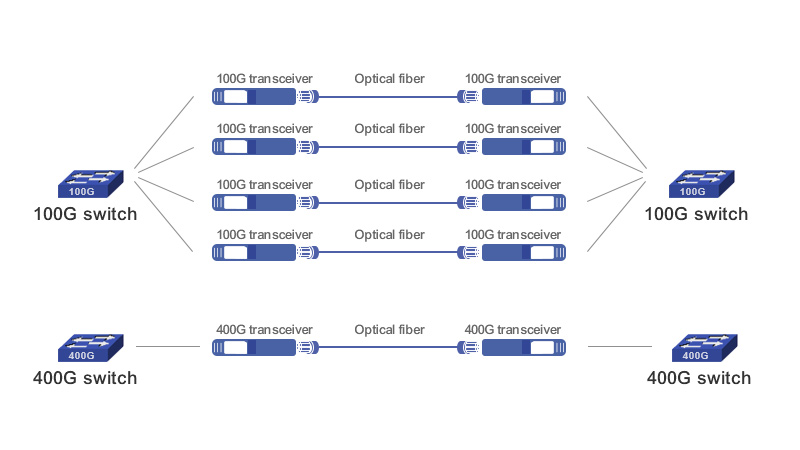 Why do we need 400 Gigabit Ethernet?
Future Trend
The first reason for the need for 400G ethernet is that as the digital age accelerates, we need higher speeds and bandwidth to improve data transmission efficiency and quality. In addition, future network demands will become increasingly complex and require higher specifications to adapt. Against this background, 400G network equipment has become an indispensable key technology that can meet the growing demand for high-speed, large-capacity data and applications.
Cutting-edge Technology Needs
Second, with the development of cutting-edge technologies such as artificial intelligence, autonomous driving, and virtual reality, the demand for network speed and capacity is also increasing. For example, artificial intelligence requires a large amount of data for training and processing, while autonomous driving requires the real-time transmission of massive data. The transmission speed and capacity required by these applications have far exceeded the range of capabilities of previous network equipment, thus requiring more efficient 400G network equipment to meet these demands.
The Popularity of 5G and IOT
Finally, with the popularity of 5G and the Internet of Things, we will face more connected devices and more data transmission, thus requiring higher-speed network equipment to meet these demands. Internet of Things devices require the fast transmission of massive amounts of data, and 5G networks also require higher transmission speeds and larger capacities to support more connections and applications.
QT'S 400G Transceivers
Conclusion
Overall, while 400G ethernet may not be what everyone needs right now, it is certainly an exciting development in networking technology. As the demand for high-speed data transmission continues to grow, 400G ethernet will play a key role in enabling advanced applications and the possibility of breakthrough technology areas. To sum up, 400G network equipment is an essential technology for the development of the network industry. Its application will play a key role in promoting the digital transformation and upgrading of various industries and improving the quality and efficiency of data transmission.