48x 25G/8x 100G Ports for Variety of Client Types
25G SFP28 ports for access or aggregation switches, 100G uplinks for core switches. 56 Ports Meet the needs of high-density deployment.

Upgrading your network to high density and high flexibility
Using high-density 100G devices (S7600-32C) as the core (Spine) of the data center and high-density 25G devices (S7600-48Y8C) as the access layer (Leaf), deploying a spine-leaf network architecture enables VXLAN data center networking. This setup ensures extensive virtual machine migration and flexible deployment of user services.

MLAG Implements Device-level Link Reliability
The switch running MLAG can be connected through a peer-link link and perform link aggregation negotiation with the host in the same state. After the M-LAG member devices receive the traffic sent by the access device through link bundling and load sharing, they can jointly perform negotiate link aggregation traffic forwarding.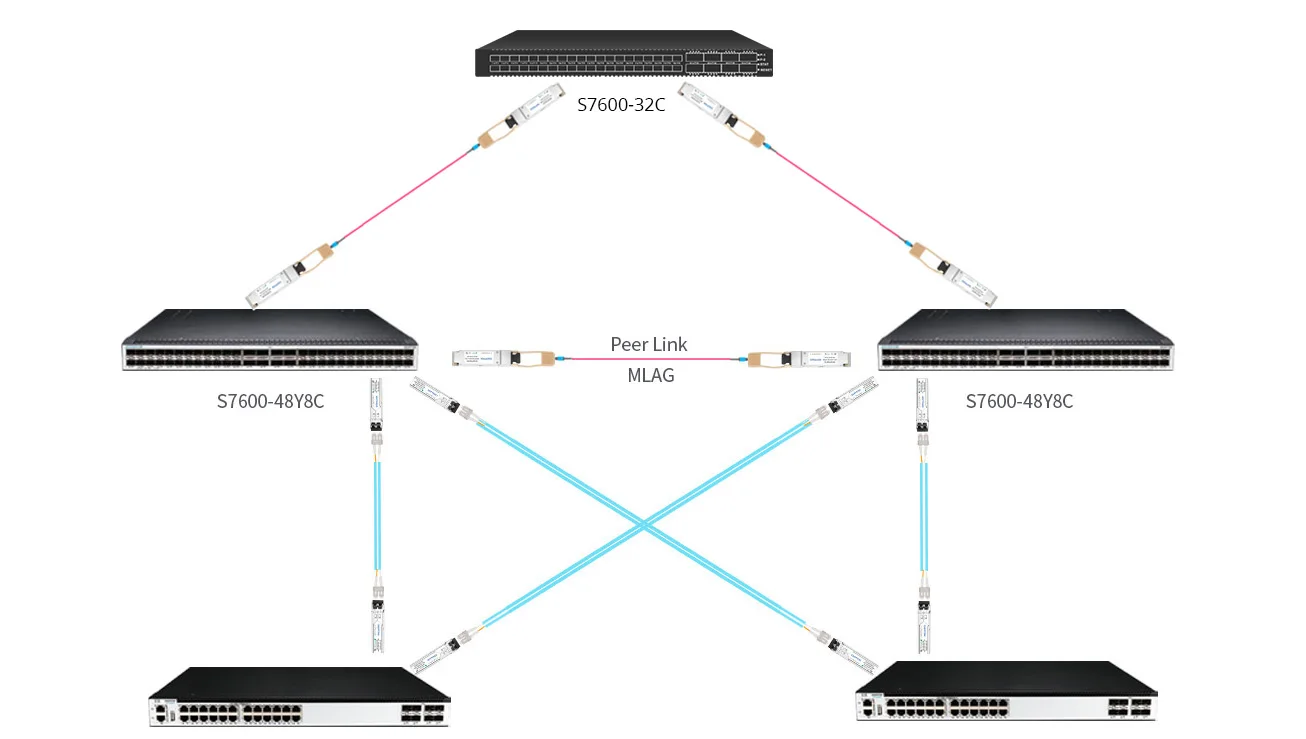 1+1 Hot-Swappable Power Supplies and 4 Modular Pluggable Fans
Dual power supplies allow for on-the-fly replacements, the chassis features front-to-back airflow, and fans automatically adjust speed to control noise and power consumption.
Outstanding QOS for Precise Traffic Control
Each port of the S7600-48Y8C provides 10 hardware queues (8 unicast queues, 1 multicast queue, and 1 listening queue). Support WDRR (Weighted Deficit Round Robin)/SP (Strict Priority) and TD (Tail Drop) and other multi-level scheduling technologies )/WRED (Weighted Random Early Detection) to prevent congestion.